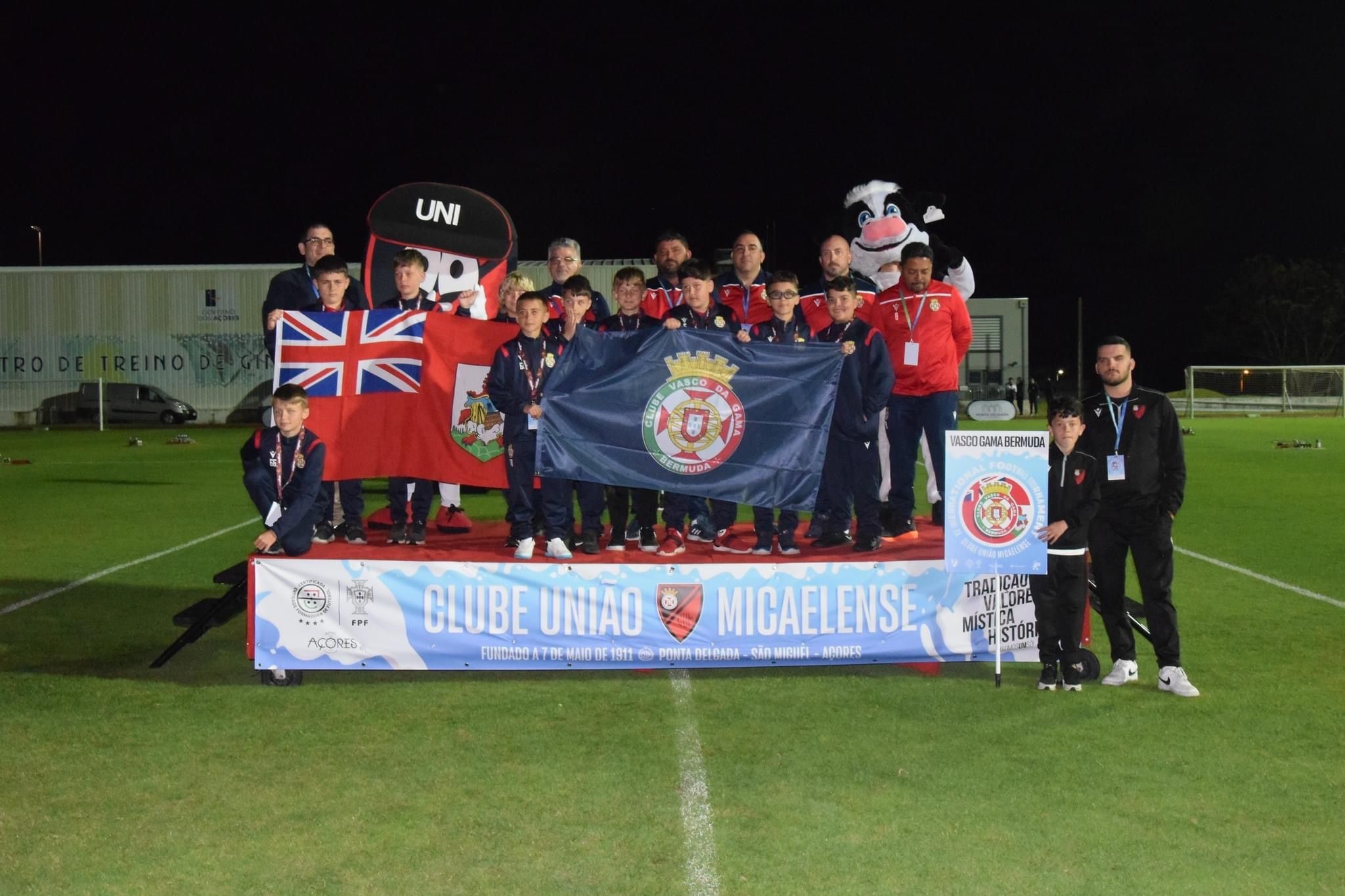 Vasco da Gama Club's U11 select team just finished taking part in the 15th International U11 Football Tournament of the Azores.
The tournament, organized by Clube União Micaelense based in Ponta Delgada, Azores, was an exciting display of 7-a-side football from 24 teams personally invited to attend.
The International U11 Football Tournament is one of the largest youth sporting events in the Azores, bringing over 3,000 people to the Azores.
Vasco da Gama performed well, as they won their opening game against FC Flamengos. However, they were not so fortunate against Arlander FC of Kazakstan, ACF Pauleta of the Azores, and CAAF Atlântico and SC Campomaiorense, both from the Portuguese mainland. A missed penalty in one game and a disallowed goal in another stood in the way of further victories during the Group Stages. However, Vasco da Gama won both elimination games against EF Minifoot from the Portuguese mainland and GD São Roque from the Azores.
However, Vasco da Gama is also pleased to note that Roman Gaglio, who played in a striking or attacking midfielder role throughout the tournament, was individually honored by the tournament organizer as one of the best 7 players throughout.
Germano Botelho, director of the Vasco Youth Program and head coach for the team, expressed how proud he and the coaching staff were of the team:
"The boys did a fantastic job during the tournament. The boys experienced football at a level they were not used to, but they stepped up and played beyond their normal abilities. They were able to adapt to the European style and physicality. While missing a penalty and having a goal disallowed disappointed them, they nonetheless gave it their all.
"They held their nerve against teams preparing their youngsters for professional careers. Out of a possible 7 games, Vasco won 3 and placed 17th out of a total of 24. However, this result does not do justice to just how well the young boys played. They gave their all and showed massive improvement between the start and end of the tournament. On behalf of the entire coaching and support staff, let me just say how proud we are of the group."
"I also want to give a special shout-out to Roman for being selected as among of the tournament's best. He shared this honour with young players from professional academies throughout Europe. This is no small achievement, and we expect great things from Roman in the future. His parents, which includes our Coach Reed, should be very proud."
Richard Ambrosio, President of Vasco da Gama, who was present at the games, thanked everyone involved as follows:
"I want to, first, congratulate the team for their performance. Thanks to them and their parents for agreeing to take part and representing the Club.
"I also wanted to thank all our coaching and support staff who helped put together the team, who took care of the young players while in the Azores and who helped shepherd them to this result: Germano Botelho, Enio Vieira, Reed Gaglio and Dr Sylvanus Nawab. Their care and concern for the youngsters were evident throughout.
"Finally, a big thank you to União Micaelense for organizing the tournament. In particular, thanks to Mr Arsénio Sampaio Furtado, for the personal invitation to Vasco, and to his team for their meticulous attention to detail. From our perspective as a participating team, the tournament was an unparalleled success."