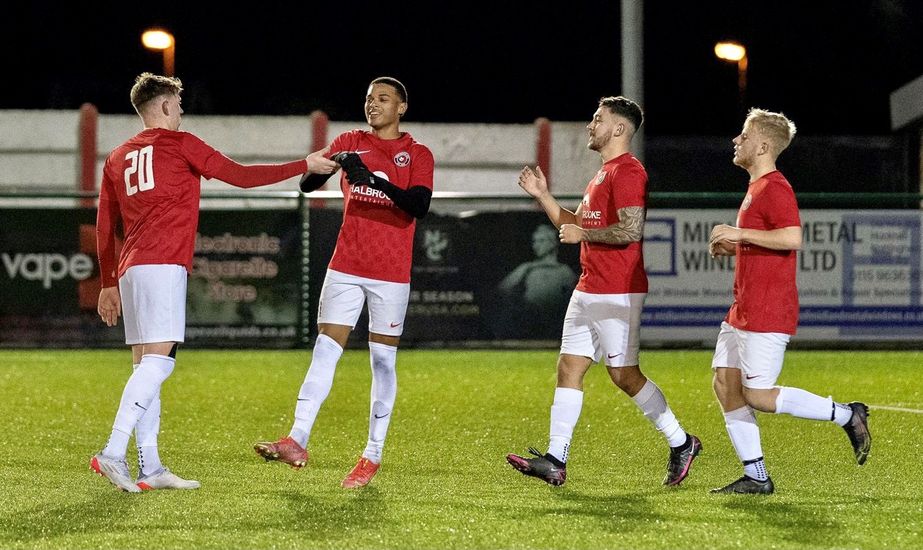 Dill 2nd left Celebrates Scoring
IslandStats.com
Two Bermuda Footballers were in action for their club's youth teams and both found the back of the net twice each.
NAHKI WELLS
Nahki Wells turned out for the Bristol City Under 23 team in their 3 – 3 draw with Cardiff City.
Bristol City threw away a 3 – 0 lead to allow Cardiff the point.
Wells gave Bristol City the lead in the 7th minute, three minutes later it was 2 – 0 when Tommy Conway scored, Wells would then make it 3 – 0 when he scored his second of the game in the 59th minute.
Cardiff City began their comeback with a goal in the 70th minute, 76th minute and then stoppage time.
AYLEAL DILL
Ayleal Dill was in action with the Eastwood Under 21 team, that also played a game against Derby and won 4-1.
Dill opened the scoring in the early stages of the first half with a rebound, which was followed close behind with the second goal also from a rebound both balls hitting the goal post and Dill on hand to put the balls in the back of the net.
Second half started both teams playing scrappy just kicking the ball before Eastwood was awarded a free kick which was taken beautifully by Kyle Wrenn and produced the 3rd goal. Derby got a goal back before Dill got a break away before crossing the ball to his teammate Harrison Rowley who just gracefully secured the win.