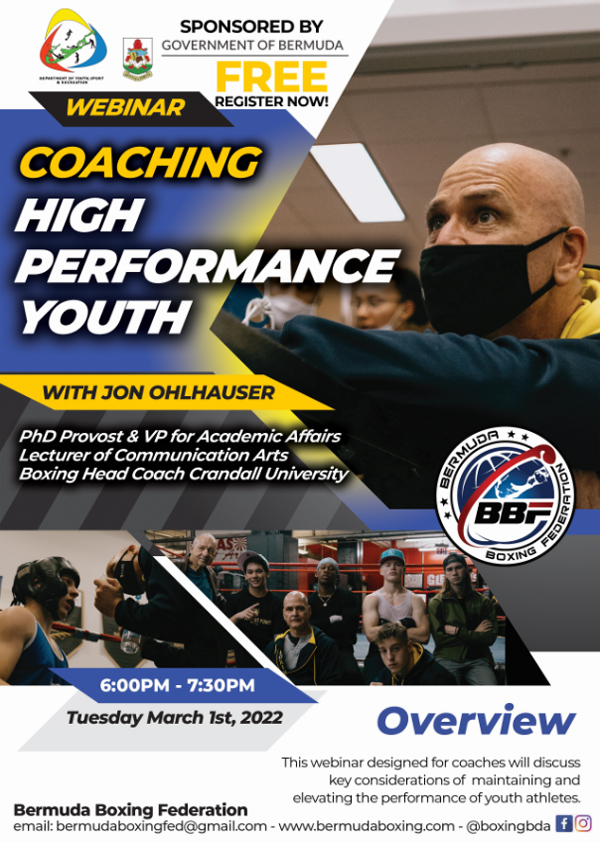 The Bermuda Boxing Federation (BBF) will host a two-part webinar focused on developing youth athletes, on March 1st and 2nd, 2022 at 6 pm.
Day 1 welcomes Crandall Boxing Head Coach Jon Ohlhauser Ph.D. and VP for Academic Affairs. Additionally, Ohlhauser partners with the BBF in coaching rising star Adrian Roach. Joining the conversation are Maceo Dill, Earl Basden, and Garon Wilkinson.
Day 2 invites you to join local stakeholders Latisha Lister-Burgess, Angela Young, and moderator Melissa Looby to discuss creating balance in athletics and academics.
The conversation will feature three youth athletes, Dominique Brown, Jediah Cumbermack, and Adrian Roach who are actively navigating that balance and their perspectives.
Register your interest via email to bermudaboxingfed@gmail.com.
This event is sponsored by the Department of Youth, Sport and Recreation.