Tuesday, May 16, 2023
Petty Returns as Bermuda Triathlon President
Steven Petty & Karen Smith
IslandStats.com
The Bermuda Triathlon Association announced their new Board members and Executive Committee for 2023.
Steven Petty, a founding member of the Association in 1981, has been appointed President with Karen Smith, assuming the role of Vice President. The Association currently has 216 members.
Neil de ste Croix and Clive Langley are responsible for Youth Development.
de ste Croix will act as a coach and team manager for the upcoming Central American and Caribbean Games in San Salvador in June, with Langley taking on the same responsibilities for the Junior Commonwealth Games in Tobago in August.
Kristen Robinson will assume the formal role of Treasurer.
The Executive Committee will be led by Ian Pilgrim, Patty Petty will act as the liaison for World Triathlon and technical officials, Geoff Smith will be responsible for coordinating local events and Bryce Williams will act in the dual roles of schools' liaison and Chief Diversity Officer.
Steven Petty, President of the Bermuda Triathlon Association, commented, "Triathlon is thriving in Bermuda. Building on the successful hosting of major events such as the World Triathlon Series and the Carifta Games, we are seeing increased participation at all levels.
The Tri-Hedz programme has over 60 children taking part each week and we have seen a number of Bermudian triathletes taking part in Sprint, Olympic, and Ironman events across the globe. Our professional athletes also continue to perform well above what might be expected from a small island. We are looking forward to an exciting year of racing!"

Tuesday, May 16, 2023
Hawley Receives Carey Olsen Athletics Scholarship
Carey Olsen Bermuda announced that triathlete Erica Hawley was the first recipient of the inaugural Carey Olsen Athletics Scholarship.
A spokesperson said, "The firm will sponsor and support the Bermudian triathlete throughout 2023 as she endeavors to qualify for the Paris Olympic Games in 2024.
"Erica has competed professionally for five years and became a full-time professional athlete in 2022 with the support of the Bermuda Olympic Association, the Bermuda Triathlon Association, the International Olympic Committee, and the Department of Youth and Sport. Carey Olsen's additional funding will allow Erica to take part in the international races necessary to garner enough points for qualification."
Carey Olsen Bermuda Limited partner Gavin Woods commented: "We are thrilled to launch the Carey Olsen Athletics Scholarship with the sponsorship of Erica. Following on from our sponsorship of the 2022 World Triathlon Championship Series in Bermuda, supporting Erica is a natural development. She is a fantastic athlete with a bright future ahead. We wish her all the best for her next race in Huatulco, Mexico and on her quest for Olympic success."
Erica Hawley said: "I am incredibly honored to receive this scholarship from Carey Olsen. This funding will help tremendously in my quest to qualify for the Olympics and represent Bermuda at the highest level in triathlon. This support will allow me travel to races and reach my goals, and I am so thankful for Carey Olsen's sponsorship and belief in my goals."
The spokesperson said, "Erica is currently 90th in the Olympic qualification rankings and is currently one of only two Bermudian women to be ranked in the World Triathlon Elite Women rankings. Her recent successes include a third place in the 2022 Americas Triathlon Cup Long Beach.
"The Carey Olsen Athletics Scholarship is available annually to all Bermuda athletes and teams. If you would like to apply for the 2024 scholarship, please email bermuda@careyolsen.com with your letter of interest and CV."

Monday, May 15, 2023
Wells Stands on IRONMAN 70.3 Alcúdia-Mallorca Podium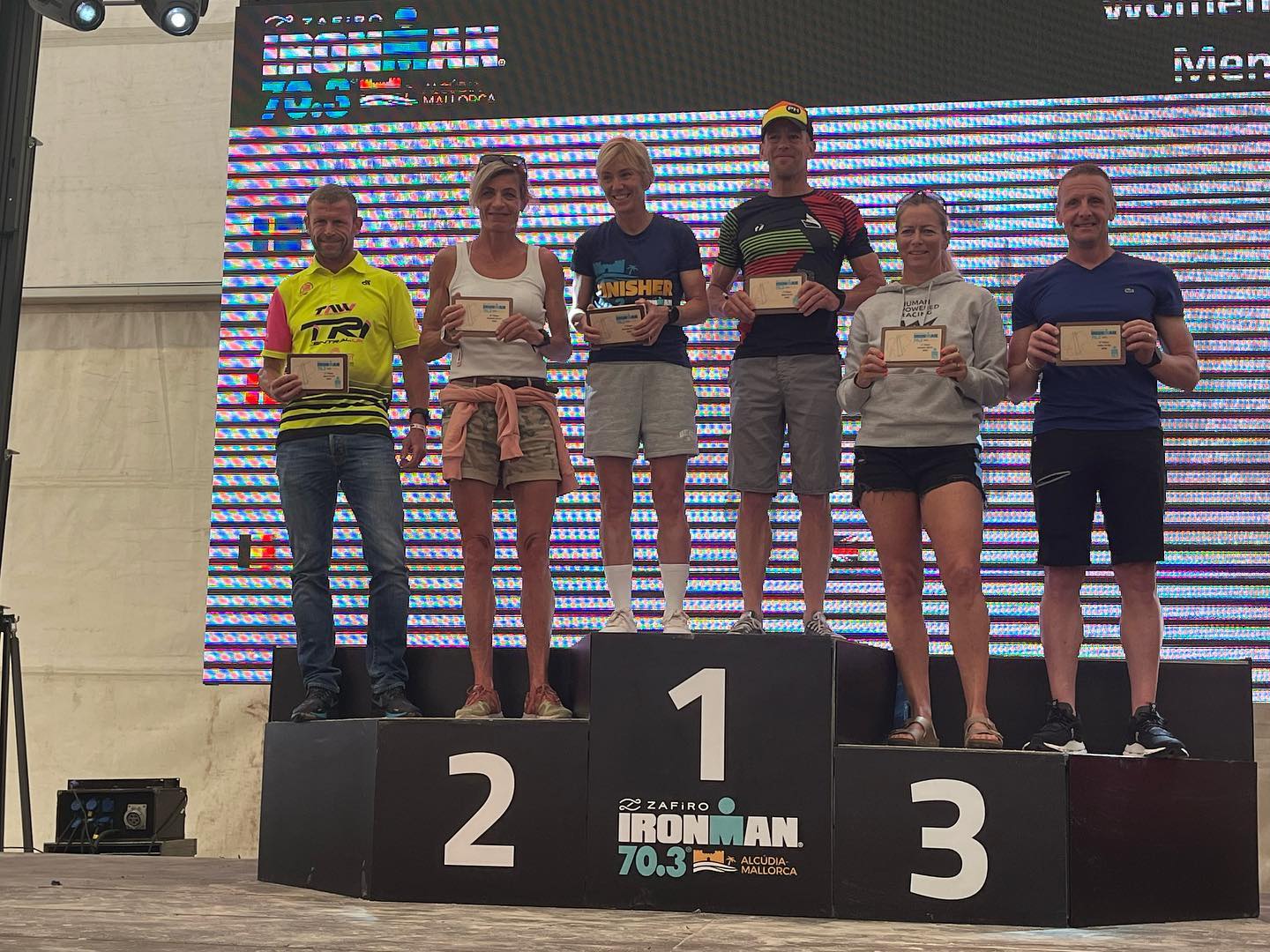 While others catch up with the results www.islandstats.com posted on Erica Hawley and Tyler Smith, today we bring you information on Louise Wells competing.
Wells stood on the podium competing in the Zafiro IRONMAN 70.3 Alcúdia-Mallorca in Spain.
Wells finished third competing in the Women's 50 – 54 Age Group clocking a time of 5:38:15, also with that time Wells finished on top of the Human Powered Racing Standings.
Wells was the 237th female finisher and 1,557th finisher overall.

Sunday, May 14, 2023
Smith Makes Continental Cup Podium in Americas Triathlon Cup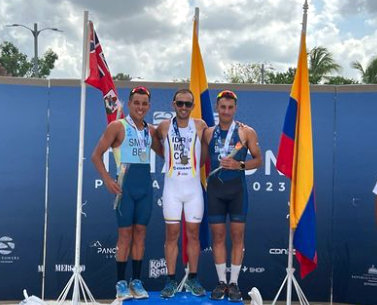 Tyler Smith made it to the podium competing in the 2023 Americas Triathlon Cup and Central America and Caribbean Championships in Punta Cana, Dominican Republic.
Smith was 10th overall clocking a time of 50:08, but he would finish on the podium in the Continental Cup competition.
Smith clocked a time of 8:42 over the 750m Swim distance, he would then complete the 20 km Bike Course in a time of 25:35, before closing out with a 5K Run time of 14:26.
Following the race, Smith said, "Nice to get on the podium, for the Caribbean and Central American Champs in Punta Cana 🇩🇴. Our 'race within the race' at the Continental Cup provided an extra boost of motivation during an otherwise frustrating day.
I went all in to give myself a chance at the overall win, but the cushion I built up on the bike evaporated as I followed the lead moto the wrong way into T2. Realistically the gap wouldn't have been enough to hold off most of the top runners anyway. Still, it's been a pleasure to be able to represent Bermuda in our regional championships and to be back racing in the Caribbean."

Friday, May 12, 2023
Hawley Finishes 45th in WTCS Yokohama
An impressive run under the pouring rain gave Sophie Coldwell her maiden World Triathlon Championship Series title in Yokohama.
Coldwell would clock a time of 1:53:32, with Erica Hawley clocking a time of 1:59:45.
Hawley finished 45th in the Women's Elite Field, she clocked 19:43 on the Swim, before clocking a time of 1:02:00 on the Bike, she would then clock 36:24 on the Run Course.
Coldwell put up a solid performance combining a great swim, a powerful bike and left the second transition in the lead to never look back. She run solo for 10km to claim the first major victory of her career, one that also puts her on top of the World Triathlon Championship Series Rankings.
Second on the line in Yokohama was another newcomer, Mexico's Rosa Maria Tapia Vidal, who claimed the first podium in the Series for her country in over while USA's Taylor Knibb signed her come back to the circuit with a Bronze Medal.