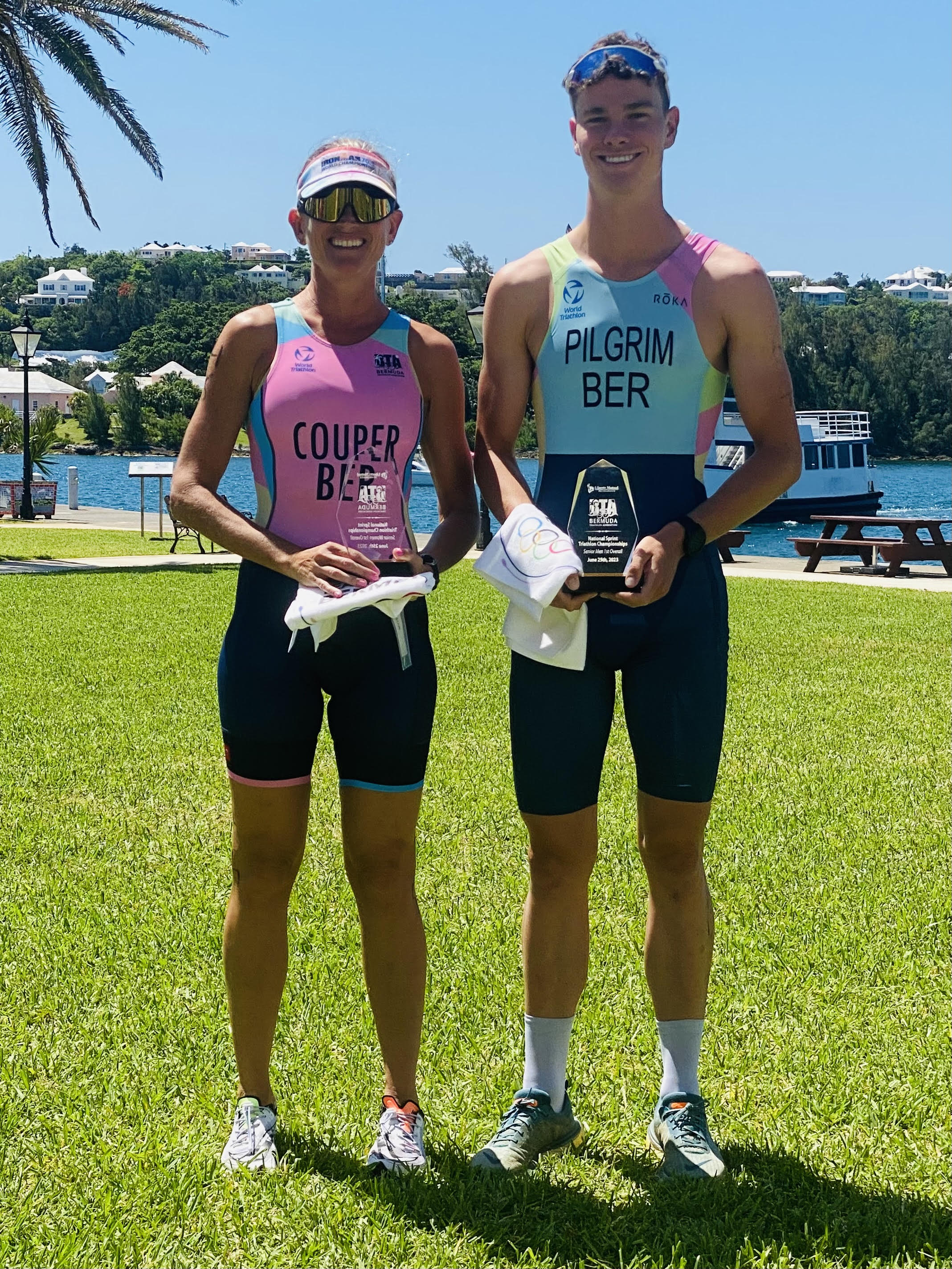 After an intense morning of racing in the harbor and streets of Hamilton, Ashley Couper, and Nicholas Pilgrim were crowned as the 2023 Liberty Mutual Bermuda National Sprint Triathlon Champions.
Pilgrim put in a commanding display, leading the race from start to finish, crossing the line in a time of 57:51. Fourteen-year-old Jackson Langley delivered an exceptional performance coming in second in a time of 1:02:27, followed by Philip Mace in third in 1:03:27.
In the Women's race multi-sport athlete, Couper, was triumphant in a winning time of 1:08:12 closely followed by Maddie Durkin 19 seconds later. Karen Smith rounded out the top three in a time of 1:09:55.
There were impressive performances across all age group divisions in the senior individual event. Newcomers to the sport, Elijah Simmons and Val Horrobin were the top finishers in the Try-a-Tri event.
In the Junior Triathlon, Jens Drea was the top male finisher in the 11-12 Division with Sophia Leclerc finishing first out of the females. In the 13-15 Age Group, Jacob Wright was the first male to cross the line with Kelise Wade taking the honors amongst the females. In the Junior Duathlon, Naomi MacGuinness and Liam Horrobin won the 7-10 age group, and brother and sister Avery and Spencer Haldeman were triumphant in the 11-15 Division.
In the team events, Saltus Middle Knights made up of Connor Hupman, Dylan Eiselt and Saezjhor Dent took the school's trophy. Two P's and a Plod consisting of Nick Pilgrim, Alex Pilgrim, and Ifor Hughes finished first in the Male Division with H20 Dawgz comprising Lynsey Palmer, Lianna De Medeiros, and Kristin Adams winning the Female Team event. The Mixed Team honors went to Social Katz made up of Josephine Duerden, Tracy Wright, and Jonah Trott.
Steve Petty, President of the Bermuda Triathlon Association said, "Congratulations to all who participated this morning and especially to our winners. It was wonderful to see a truly diverse group of athletes, ranging from first-timers to elite athletes, leaving everything out there in blisteringly hot conditions. A highlight for me is always seeing the youngest members of our triathlon community showing off their skills. We are confident that Bermuda Triathlon has a bright future ahead. A very special thanks to our sponsor Liberty Mutual Bermuda who, along with our volunteers and supporters made this a very safe and successful event."