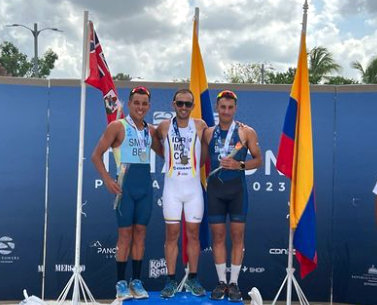 Tyler Smith made it to the podium competing in the 2023 Americas Triathlon Cup and Central America and Caribbean Championships in Punta Cana, Dominican Republic.
Smith was 10th overall clocking a time of 50:08, but he would finish on the podium in the Continental Cup competition.
Smith clocked a time of 8:42 over the 750m Swim distance, he would then complete the 20 km Bike Course in a time of 25:35, before closing out with a 5K Run time of 14:26.
Following the race, Smith said, "Nice to get on the podium, for the Caribbean and Central American Champs in Punta Cana 🇩🇴. Our 'race within the race' at the Continental Cup provided an extra boost of motivation during an otherwise frustrating day.
I went all in to give myself a chance at the overall win, but the cushion I built up on the bike evaporated as I followed the lead moto the wrong way into T2. Realistically the gap wouldn't have been enough to hold off most of the top runners anyway. Still, it's been a pleasure to be able to represent Bermuda in our regional championships and to be back racing in the Caribbean."