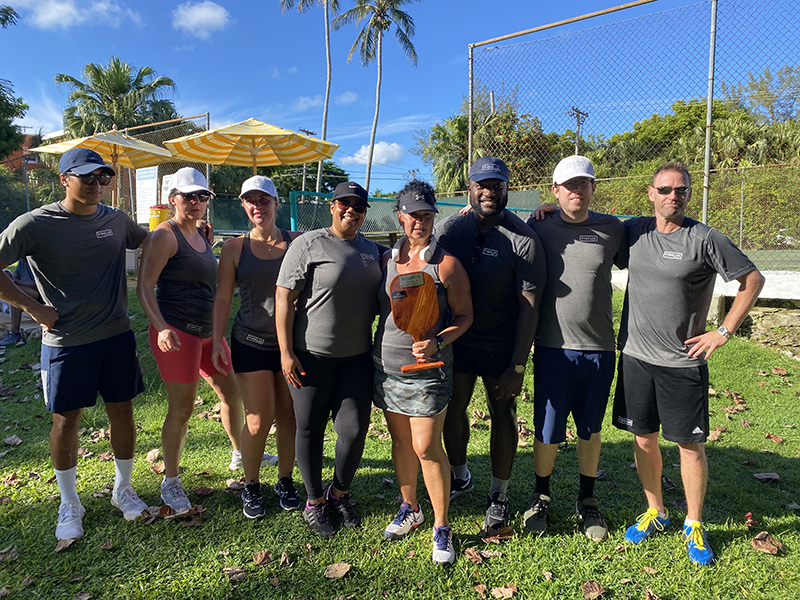 The Pickleball Association of Bermuda (PAB) announced the conclusion of its inaugural Commercial League – a pilot programme which will go fully live in May of 2024.
A spokesperson said, "Six teams participated in Division 1 and 8 teams in Division 2. One hundred and twenty-three players in total registered to play.
"The Pickleball Commercial League, organized as part of the Association's commitment to fostering a healthy and vibrant corporate culture, brought together employees from various companies to engage in friendly Pickleball competition.
Co-organizer Sarah Fox says, "The league was a resounding success, not only in terms of sportsmanship but also in promoting team building, camaraderie, sport through the lifespan and well-being among Bermuda's employees. We look forward to starting again in May 2024, with a bigger and better event".
The spokesperson said, "After weeks of exhilarating matches and spirited competition, congratulations go to the teams who emerged as the winners.
"Securing the top positions in Division 1 were: The Rallying Stones (W.J. Boyle & Son) with 86 points followed by Conduit Re with 67 points and Chubb with 57 points.
"Division 2 winners were: Fidelis Wiffle Wanderers with 71 points, followed by "Do What Moves You (Bacardi)" with 56 points and Chubb, a close third with 55 points. Bacardi took 2nd place by tie break!
"Each of these remarkable teams showcased unwavering dedication, skill, and a true competitive spirit, making the league a thrilling spectacle for all involved, offered Danny Fox, a PAB Board representative.
"The PAB extends thanks to everyone who contributed to the soft launch of the Commercial League, including co-organizers Stewart Gurr, Sarah Fox, Val Stevenson, Sue Chiappa and Christine Rodrigues. A special thanks to Buggy Powell who carved and donated the trophies and to Bacardi and Barritt's who donated beverages. From the participants who showcased their athletic prowess and enthusiasm to the coaches and organizers who worked tirelessly behind the scenes, this event would not have been possible without their collective efforts."