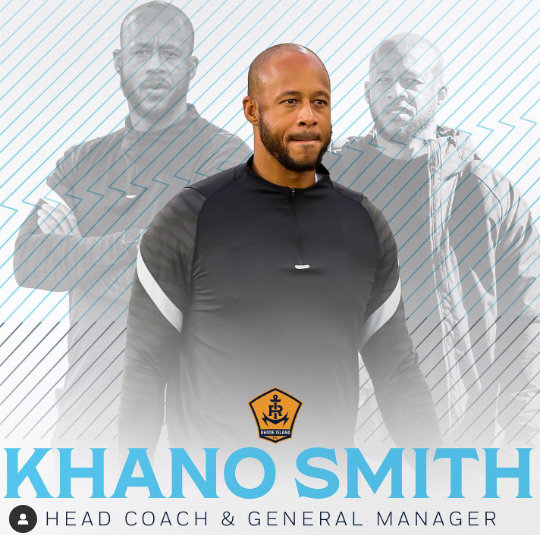 Photo curtsey of Rhode Island FC
IslandStats.com
Khano Smith will be the first head coach and general manager for Rhode Island FC. Smith is a veteran coach and holds a USSF Pro License. He is a former player for the New England Revolution and New York Red Bulls and is a past captain of the Bermuda National Team. He will officially take the reins of Rhode Island FC sporting side later this month. He is currently the first-assistant head coach with Birmingham Legion FC of the USL Championship.
As the head coach/general manager, Smith will lead Rhode Island FC's soccer operations. He will oversee roster development, manage the technical staff and team operations while serving the head coaching duties.
"Khano Smith is one of the brightest and fastest rising coaching talents in North American soccer. He has a well-earned reputation amongst his peers for getting the most out of his players and building a culture of excellence. We're incredibly fortunate to have him in Rhode Island," said Rhode Island FC chairman and co-founder Brett Johnson. "Smith will establish a winning tradition on the pitch, and he'll be an ambassador to Rhode Island's amazing soccer community. I am confident that he will lead our soccer operations in the right direction and help build a strong foundation for success."
As the club's first head coach and general manager, Smith will lead the team's soccer operations and be responsible for roster development and technical staff.
"I am honored and humbled to be back in New England. I'm excited to build a winning culture with Rhode Island FC," said incoming Rhode Island FC Head Coach and General Manager Smith. "Rhode Islanders deserve a team they can call their own and I intend to build a side that every Rhode Islander will be proud of. I'm incredibly thankful to Brett Johnson, my former teammate Michael Parkhurst and the entire Rhode Island FC team for having trust in me and my approach to the beautiful game."
Smith started his coaching career with the New England Revolution Academy shortly after retiring as an MLS player. He has coached at every level of the game and been a part of coaching staffs on both the men's and women's professional sides. As an assistant coach with Southern New Hampshire University (SNHU), he saw his side earn a 19-1-1 record. After his successful season at SNHU, Smith joined the coaching staff for the Orlando Pride (NWSL) and helped propel the team to the league semifinals in 2017. Smith was hired as an assistant coach with Legion FC in 2019. Legion FC joined USL Championship in 2019 and has never missed the league's playoffs.
"I played alongside Khano for four seasons with the New England Revolution and saw personally how fierce a competitor and how loyal a teammate he is," said Rhode Island FC co-founder, 2005 MLS Rookie of the Year, Olympian, MLS Cup Winner, and Cranston native Michael Parkhurst. "Khano hits the mark on all the attributes we were looking for in a coach and there is no one better equipped than him to create the opening chapters of a storied winning tradition for Rhode Island FC."
"Khano is one of the most reputable and sought-after coaching talents in the North American soccer landscape," said Rhode Island FC President Brett Luy. "We are fortunate to have him in Rhode Island. His addition is another positive development for our club as we build it piece-by-piece and head towards 2024."
As a player, Smith appeared in more than 100 matches over six seasons in Major League Soccer, including four seasons with the New England Revolution. Smith was known for his game-winning goals, including scoring the go-ahead goal in the 2005 Eastern Conference MLS Final to propel the Revolution to the MLS Cup Championship. Smith's international experience includes 33 caps and 10 goals for the Bermuda Men's National Team between 2003 and 2014.
Smith has a masters from SNHU in Sports Management.