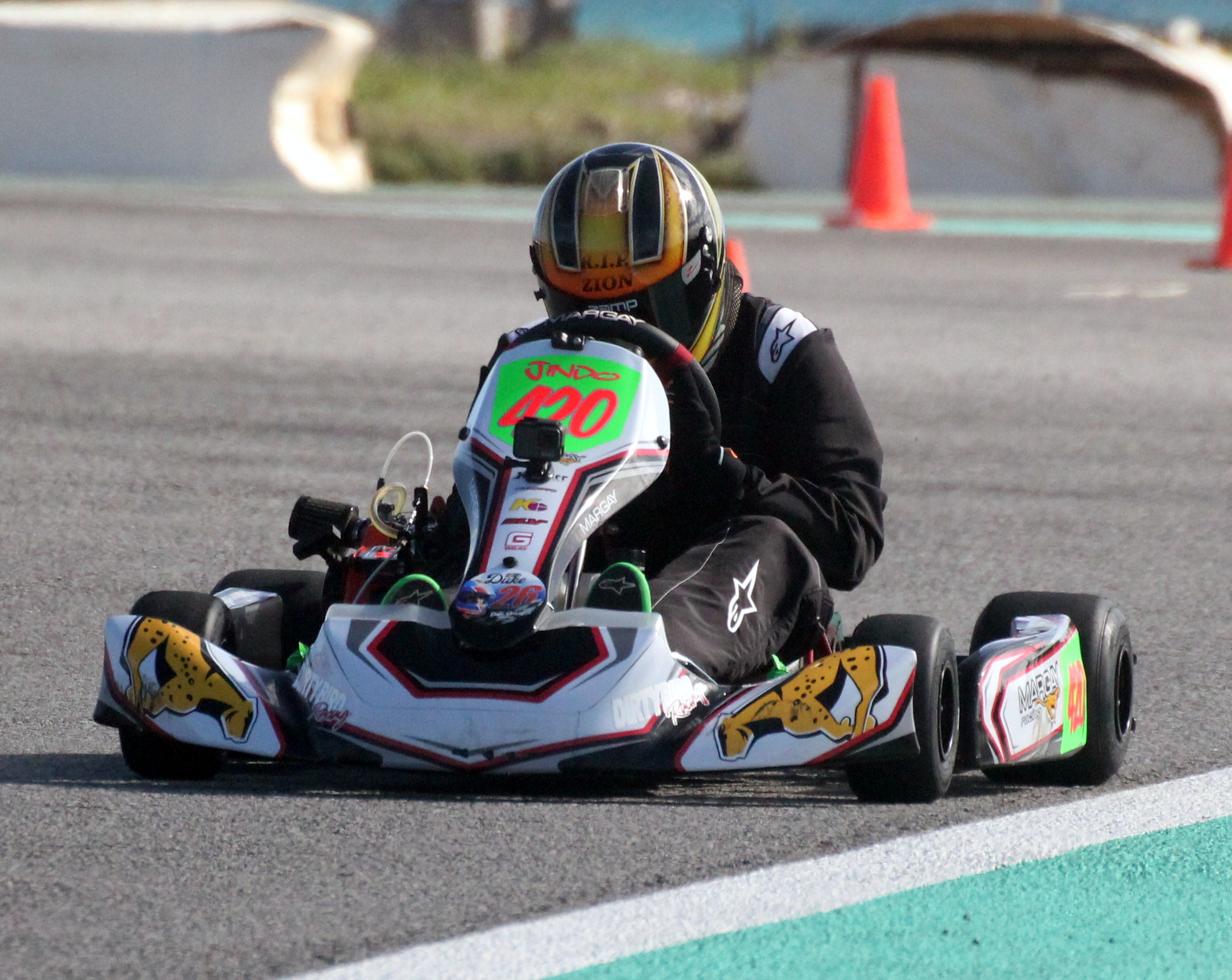 The Bermuda Karting Club season continued with different classes burning up the track.
In the Tag Junior Class, Roman Wilkinson won races two and three, with Lucas Flood winning the first race, his first win of the season. Stephen Corrado, won all three races in the Tag Senior Class.
The Shifter Stock saw John Carreiro win two races, with Ryan Lopes winning the other. David Selley won two of the three races in the L206 Senior Class, with Robert Wheatley winning the other race. Kenneth Harrison won the first race in the L206 Masters Class, with Jeff Sousa winning the other two races.
Tag Senior Class

Race 1

1. Stephen Corrado
2. Brian Bulhoes
3. Nathan DeCosta
4. William Dunkley
5. Jayden Brimmer
Race Two

1. Stephen Corrado
2. Brian Bulhoes
3. Nathan DeCosta
4. William Dunkley
5. Jayden Brimmer
Race Three

1. Stephen Corrado
2. Brian Bulhoes
3. William Dunkley
4. Nathan DeCosta
5. Jayden Brimmer
Cadet Class

Race 1

1. Syah Pedro
2. Austin Frank
3. Jemima Bonard
4. Sadie Hocking
5. Tanner Correia
Race 2

1. Syah Pedro
2. Tanner Correia
3. Austin Frank
4. Jemima Bonard
5. Sadie Hocking
Race 3

1. Syah Pedro
2. Tanner Correia
3. Austin Frank
Tag Junior Class
Race One
1. Lucas Flood
2. Jonah Moniz
3. Roman Wilkinson
Race Two

1 Roman Wilkinson
2 Jonah Moniz
3 Lucas Flood
Race Three

1 Roman Wilkinson
2 Lucas Flood
3 Jonah Moniz
L206 Senior Class

Race One

1. David Selley
2. Scott Barnes
3. Marc Tucker
4. David Barbosa
5. Brian Bulhoes
6. Robert Wheatley
7. Justin Lindo
8. Brian Hall
9. Chris Bonard
Race Two

1. Robert Wheatley
2. Scott Barnes
3. David Selley
4. Marc Tucker
5. Brian Bulhoes
6. David Barbosa
7. Brian Hall
8. Chris Bonard
9. Justin Lindo
Race Three

1. David Selley
2. Scott Barnes
3. Robert Wheatley
4. Marc Tucker
5. David Barbosa
6. Brian Bulhoes
7. Justin Lindo
8. Chris Bonard
9. Brian Hall
L206 Masters Class

Race One

1 Kenneth Harrison
Race Two
1 Jeff Sousa
2 Kenneth Harrison
Race Three
1 Jeff Sousa
2 Kenneth Harrison
Shifter Stock

Race One

1. Ryan Lopes
2. John Carreiro Jr
3. Scott Barnes
4. Jorja Thomas
5. Jason Correia
6. Shannon Caisey
7. DíNico Durrant
8. Jason DeCouto
Race Two

1. John Carreiro Jr
2. Ryan Lopes
3. Scott Barnes
4. Shannon Caisey
5. Jason Correia
6. Jorja Thomas
7. Jason DeCouto
8. DíNico Durrant
Race Three

1. John Carreiro Jr
2. Jason Correia
3. Scott Barnes
4. Ryan Lopes
5. Shannon Caisey
6. Jorja Thomas
7. DíNico Durrant
8. Jason DeCouto
KZ Class

Race One

1. Blake Horseman
2. Ryan Rebello
3. Chris Ricca
4. Stephen Corrado
5. Devon Durrant
Race Two

1. Ryan Rebello
2. Stephen Corrado
3. Blake Horseman
4. Chris Ricca
Race Three

1. Ryan Rebello
2. Stephen Corrado
3. Blake Horseman
4. Chris Ricca