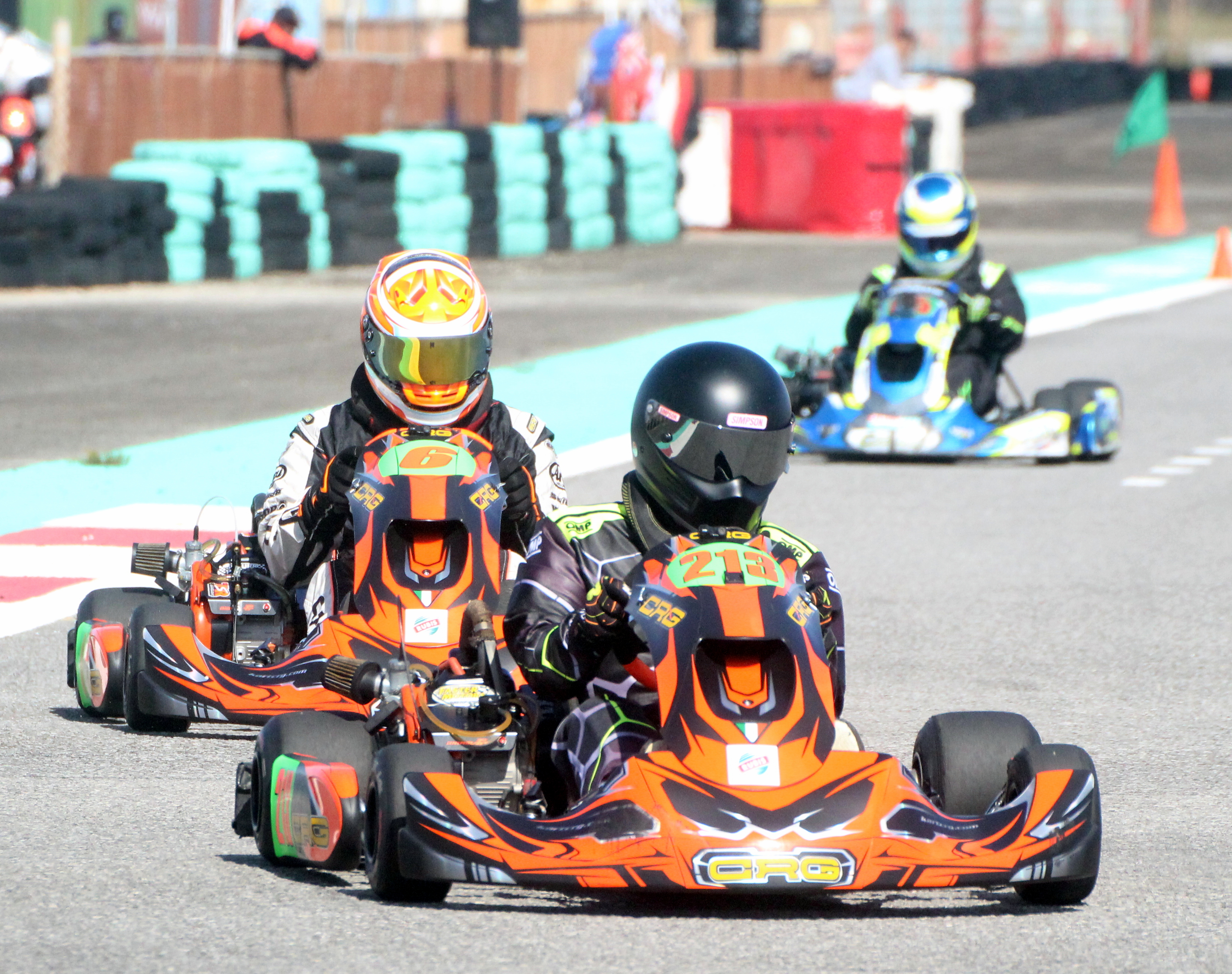 The Bermuda Karting Club 2021-2022 season continued with Race Day at the Southside Motor Sports Park.
Click Here to see
Pictures of Bermuda Karting Racing April 24th 2022
The Tag Senior Class saw Blake Horseman in the winnerís circle in two of the three races, with Shannon Caisey winning Race Two. The L206 Senior Class saw two different winners, Jason North would drive to victory in the first and third races, and David Barbosa won race two.
Ryan Burgess won two of the three races in the Shifter Stock Class, he won races one and two, while Ryan Rebello won the third race. DíNico Durrant won the first two races in the Modified Stock Class, with Caisey winning race three.
The Cadet Class saw Syah Pedro win races two and three, this after Jonah Moniz won the first race.
Tag Senior Class

Race 1

1 Blake Horseman
2 Shannon Caisey
3 Chris Ricca
4 Bilal Binns
5 Nathan DeCosta
Race Two

1 Shannon Caisey
2 Nathan DeCosta
3 Bilal Binns
4 Blake Horseman
5 Chris Ricca
Race Three

1 Blake Horseman
2 Shannon Caisey
3 Bilal Binns
4 Nathan DeCosta
5 Chris Ricca
L206 Senior Class

Race One

1 Jason North
2 David Barbosa
3 Marc Tucker
4 Scott Barnes
5 Robert Wheatley
6 Brian Hall
7 Chris Bonard A&D
Race Two

1 David Barbosa
2 Jason North
3 Marc Tucker
4 Scott Barnes
5 Robert Wheatley
6 Brian Hall
7 Chris Bonard A&D
Race Three

1 Jason North
2 David Barbosa
3 Marc Tucker
4 Scott Barnes
5 Brian Hall
6 Robert Wheatley
7 Chris Bonard A&D
Shifter Stock

Race One

1 Ryan Burgess
2 Ben Savill
3 Ryan Rebello
4 Stephen Corrado
Race Two

1 Ryan Burgess
2 Stephen Corrado
3 Ben Savill
4 Ryan Rebello
Race Three

1 Ryan Rebello
2 Ryan Burgess
3 Stephen Corrado
4 Ben Savill
Modify Stock

Race One

1 D'Nico Durrant
2 Devon Durrant
3 Shannon Caisey
Race Two

1 D'Nico Durrant
2 Devon Durrant
3 Shannon Caisey
Race Three

1 Shannon Caisey
2 D'Nico Durrant
3 Devon Durrant
Cadet Class

Race 1

1 Jonah Moniz
2 Roman Wilkinson
3 Syah Pedro
4 James Bardon
5 Lucas Flood
Race 2

1 Syah Pedro
2 Jonah Moniz
3 Roman Wilkinson
4 James Bardon
5 Lucas Flood
Race 3

1 Syah Pedro
2 Roman Wilkinson
3 James Bardon
4 Lucas Flood
5 Jonah Moniz