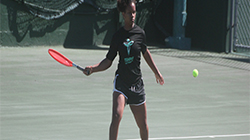 The 2023 Bermuda Lawn Tennis Associationís Spring Fever Tennis Tournament concluded at the W.E.R. Joell Tennis Stadium.
Hasan Khan won the Under-12 Boys tile, but he needed a third set tie-breaker to defeat Raul Maldonado 6-3, 2-6, 10-8.
Jaden Jones won the Under 14 Boys Division with a straight sets victory 6-4, 6-4 over Tobiah Goodchild. Zachary Mcguire claimed the Under 16 Boys title following his 6-2, 6-4 victory over Tristan Pettit.
Nadhira Durham won the Under 18 Girls title with a 6-0, 6-4 victory over Airez Gilbert-Simons.
Under 12 Girls Division Round-Robin

6 6 Samantha Morgan
defeated
3 2 Lee Terceira
Under 12 Boys Division Final

6 2 10 Hasan Khan
defeated
3 6 08 Raul Maldonado
Under 12 Boys Division Consolation Final

6 6 Winston Mahabir
defeated
3 4 Jit Hom Liew
Under 14 Boys Division Consolation Semi-Final

10 Hasan Khan
defeated
01 Jit Shuen Liew
Under 14 Boys Division Final

6 6 Jaden Jones
defeated
4 4 Tobiah Goodchild
Under 16 Boys Division Final

6 6 Zacary Mcguire
defeated
4 4 Tristan Pettit
Under 16 Boys Division Consolation Final

10 Jadon Spriggs
defeated
01 Will Britten
Under 18 Girls Division Final

6 6 Nadhira Durham
defeated
0 4 Airez Gilbert=Simons
Under 18 Girls Division Consolation Final

6 7 Kumani Jackson
defeated
1 5 Samara Adams