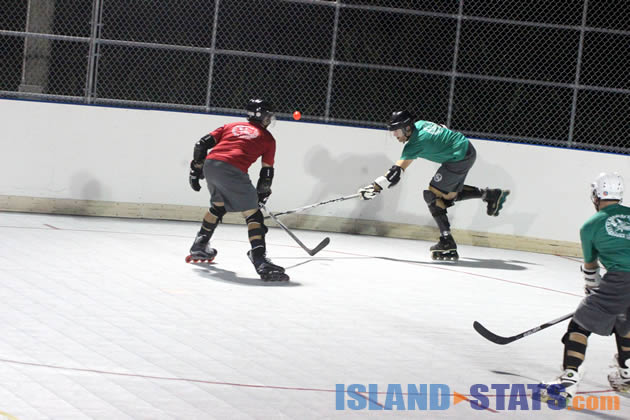 The Bermuda Inline Ball Hockey League season continued with a double-header taking place and producing a total of 34 goals at the PCC Hockey Rink.
St. Davids Islanders 6 Warwick Waves 10
In the opener, the Warwick Waves defeated the St Davids Islanders 10 – 6.
The Warwick Waves got 3 goals off the stick of Wyatt Woloshyn, while Ian Beaudoin, Kris Abramowski, and Marcel Bouwens all added 2 goals each, and Wayne Woloshyn scored once.
Chris Grantier scored 3 times for St Davids, Doug Lynch, Bill Calko, and James Amaral all added a goal each.
Tuckers Town Tropics 12 Southampton Sailors 6
In the nightcap, the Tuckers Town Tropics defeated the Southampton Sailors 12 – 6.
Wyatt Hall scored 4 times to lead the Tuckers Town Tropics to victory, while Matthew Benson, and Doug Lynch both added hat-tricks, and Kyan Oakley scored twice.
Brad Koperdraad, and Kris Abramoski scored two goals each for the Southampton Sailors. Kevin Mason , and Shawn Mckee added a goal each.