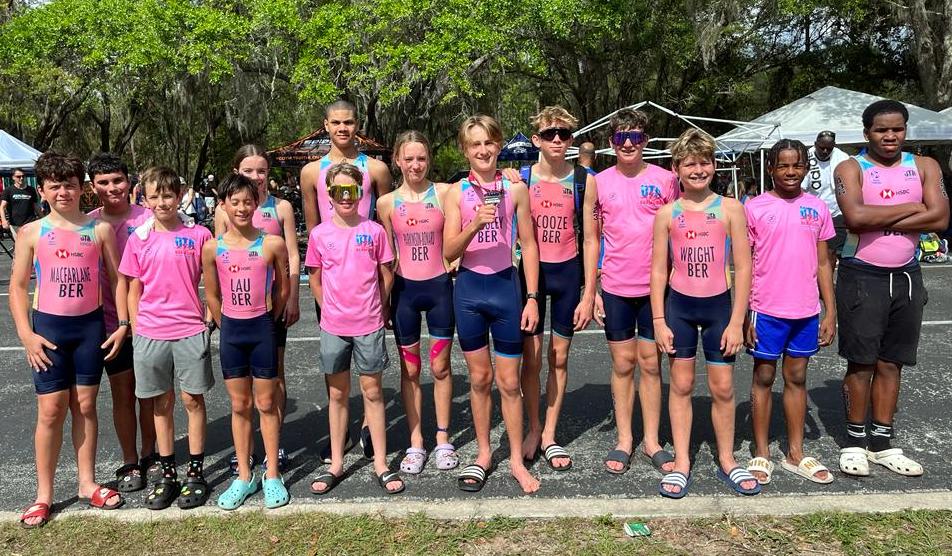 Jackson Langley again showed his strength on the Bike, moving up seven places after finishing the swim in 11th position, to head out on the run in the top pack. Langley ultimately finished the race in third in a time of 30.32.
Jacob Wright finished in 18th position in a time of with time of 34.27, Braxton Cooze in 20th in 35.09. In the Youth Girls race, Ella Shepherd finished 24th in a time of 40.05 with Tallulah Parkinson two places behind her in 40.33.
Jackson Langley sadly missed out on CARIFTA triathlon in November due to injury and was delighted to be back racing at his best again. He commented, "Missing CARIFTA last year due to my crash was a big disappointment so this weekend has felt great. The competition was fierce but our whole team represented Bermuda really well. I want to thank my teammates, my coaches, especially my Dad, and my VT Madison cycle teammates who have really been pushing me on the bike."
Clive Langley, Jackson's father who serves as one of the National Coaches said, "I am incredibly proud of Jackson and the whole Bermuda squad. How they have conducted themselves and competed on this much bigger stage is truly commendable. It's an honor to be a part of the next generation of sport. There's much more to come, I am sure."
National Coach Neil de St Croix commented, "The growth and development of the latest wave of young triathletes in Bermuda are inspiring. The weekend has been a huge success and on a regional level, to see three young men from the CARIFTA group placing in the top ten was truly amazing."
In the Youth Boys race, Jacob Sanchez Smith finished 25th clocking a time of 36.22, Jens Drea was 26th clocking a time of 36.27, while Gordon Smith was 28th in 37.08.
Makao Butterfield was the 37th athlete to cross the line clocking a time of 40.10, Jasper Lau finished 38th with a time of 40.41, while Dominic Wright clocked a time of 42.01 finishing 43rd.