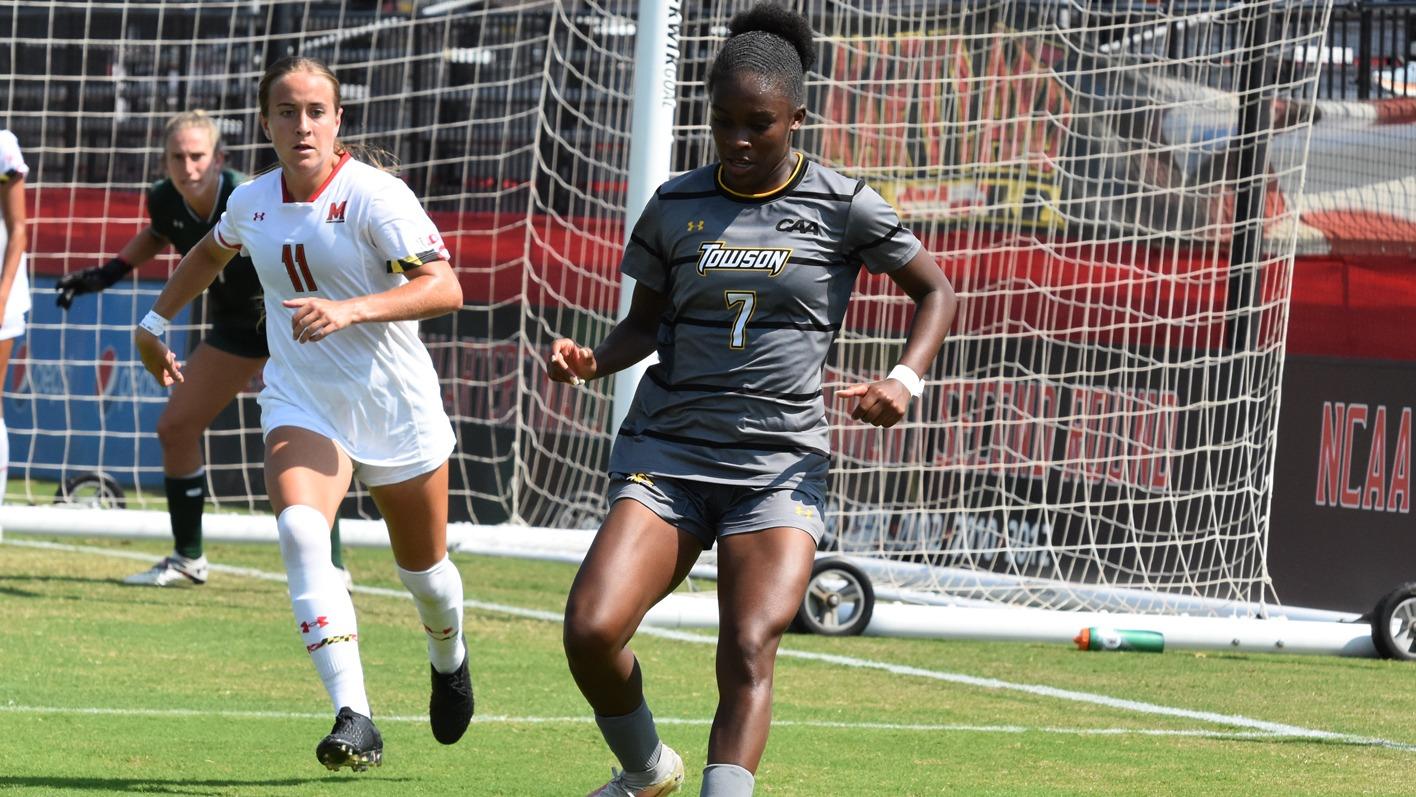 Nia Christopher and her Towson Women's Soccer teammates battled rainy conditions to defeat Drexel 5 - 3 on Senior Day. Christopher and Jasmine Hamid each recorded a pair of goals in the win.
Towson scored twice in less than a minute in the first half to take control early against Drexel. With her first goal of the game, Christopher became the all-time points leader at Towson, surpassing Emily Banes who had the previous record at 77.
Towson wasted little time getting on the scoreboard. Towson got a goal in the 3rd minute from Julie Lynch. Lynch set home a laser off a pass from Hamid into the bottom left corner to give them an early 1 - 0 lead.
Towson would strike again just 56 seconds later. Christopher got a pass from Phoebe Canoles to make it 2 - 0.
The goal for Christopher gave her 79 career points, making her the all-time leader in career points.
Towson nearly made it 3 - 0 just minutes later with Demi Pierre getting a good look in the box but her shot went just wide left.
Towson would take a 2-0 lead into the break.
Drexel would get on the front foot in the second half cutting the lead in half with a goal on the 53rd minute.
Drexel would continue to apply pressure early on. Towson, however, would find a response in the 74th minute off the foot of Hamid who scored after a pair of saves in front of the net.
Drexel would once again cut the lead to one with a goal in the 78th minute.
Christopher would net her second off the game just seven minutes later off assists from Phoebe Canoles and Julie Lynch to make it 4 - 2.
Hamid would follow suit with her second goal just two minutes later off a long pass from Jacey Miller to give Towson a 5 - 2 advantage.
Christopher moved into the top spot with 81 career points becoming the first Towson player to record 80 points in a career.