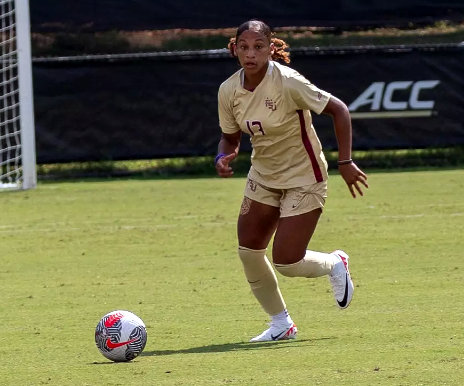 Onyi Echegini's late-game heroics lifted the Leilanni Nesbeth and her No. 3 Florida State Women's Soccer teammates in a 3 - 2 win over Syracuse at SU Soccer Stadium in Syracuse, N.Y.
Syracuse was the first to score as they took advantage of a misplay by the goalie in the third minute to take a 1 - 0 lead. Florida State quickly responded in the seventh minute as Beata Olsson scored her third goal of the season off a great ball from Ran Iwaii.
Florida State surrendered an own goal with just 29 seconds left in the first half for Syracuse to take the lead.
Florida State tied the game back up in the 58th minute as Taylor Huff sent in a great corner kick that bounced off a Syracuse defender and into the net to tie the game at two.
Florida State continued to apply pressure on the offensive end recording eight shots on goal over the next 20 minutes. Echegini made some magic happen in the 84th minute as she dribbled through the defense and took a shot just inside the box, and it soared into the back right corner of the net to give Florida State the lead. It was Echegini's sixth goal of the season which led the team.