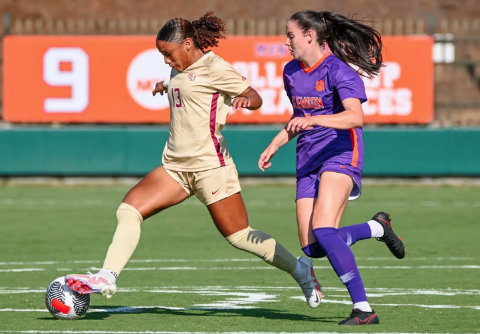 Leilani Nesbeth and her No. 4 ranked Florida State Women's Soccer teammates scored four unanswered goals to take down No. 8 Clemson by a score of 4 - 2 at Riggs Field.
It is Florida State's second road victory over a top 10 team and is the fifth straight season Florida State have opened ACC play with a victory.
After Clemson scored goals in 6th and 19th minutes, Florida State continued to apply pressure and finally found the back of the net as Ran Iwai sent a ball into the box, and Jordynn Dudley was able to corral and keep her composure in traffic to find the back of the net in the 26th minute. Florida State struck again in the 44th minute as Lily Farkas sent a perfect ball to Maria Alagoa who snuck behind the defense and converted for her first goal of the season to tie the game at halftime.
Florida State dominated the second half allowing just four shots in the second frame and continued to control possession on the offensive end. Beata Olsson found the back of the net off a ball that ricocheted off a defender leaving Olsson with a one-on-one opportunity to give Florida State the lead. Onyi Echegini added the dagger in the 81st minute as she was there for the rebound and converted for her team-high fifth goal of the season.