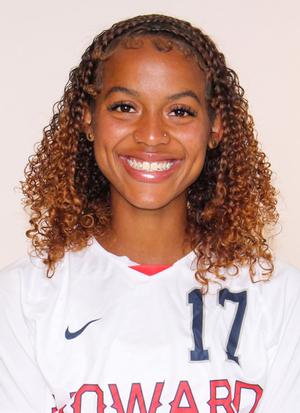 Koa Goodchild and her Howard University Women's Soccer teammates prevailed in a fan-favorite matchup as they routed Hampton University, 7 - 0, reminding doubters who is the Real HU.
Junior standout Melea Earley gained momentum for Howard, netting two goals in the first 10 minutes. The team captain went on to add an assist to the night's stats when teammate senior Nyla Allen whizzed one by the Lady Pirate goalie.
Physicality started to heat up in the second half, but Howard did not back down.
Holding a 3-0 lead, senior Marli Berry opened the scoring with help from second-year Howard Bre'Elle Dean.
With the excitement at a high, Howard made the crowd go wild when they produced back-to-back goals from the likes of Allen and redshirt sophomore Rachel Suttle.
Hampton's tenacious efforts continued to fall short.
With 35 seconds to go, newcomer Alauna Rutland added one more for good measure with the help of sophomore Saliyah Brady.
Rookie goalkeeper Trinity Knox held down the first half with four saves. Howard switched it up at the half, bringing senior goalkeeper Kennedy Jones to the net. Jones made two big saves to cap her season debut.