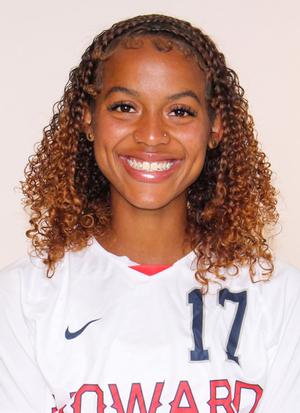 Koa Goodchild and her Howard University Women's Soccer teammates continued their 2023 campaign in a 3 – 3 stalemate against Elon, at Greene Stadium.
Howard University came out strong, outshooting Phoenix in the first 45 minutes, 12-3.
Despite the strong start, Elon got on the board first at the 14-minute mark.
In the waning moments before intermission, newcomer Alauna Rutland found junior Melea Earley and tied the contest at one apiece.
Moments after halftime, senior midfielder Marli Berry gave Howard University its first lead of the game on an unassisted goal at the 48-minute mark.
Within the next 10 minutes, Elon regained the momentum with a pair of goals, including a penalty kick goal by Gabby Hoschek to make it 3 - 2.
Near the 60-minute mark, a miscue by Phoenix tied the match at three.
For the final 30 minutes, both squads had opportunities, but were unable to capitalize; thus, ending the exciting contest in a draw.
Freshman goalkeeper Trinity Knox made her Howard University debut, producing four saves in the tie.
For Elon, Hoschek led the way with two goals while McKenna Dalfonso racked up seven saves.