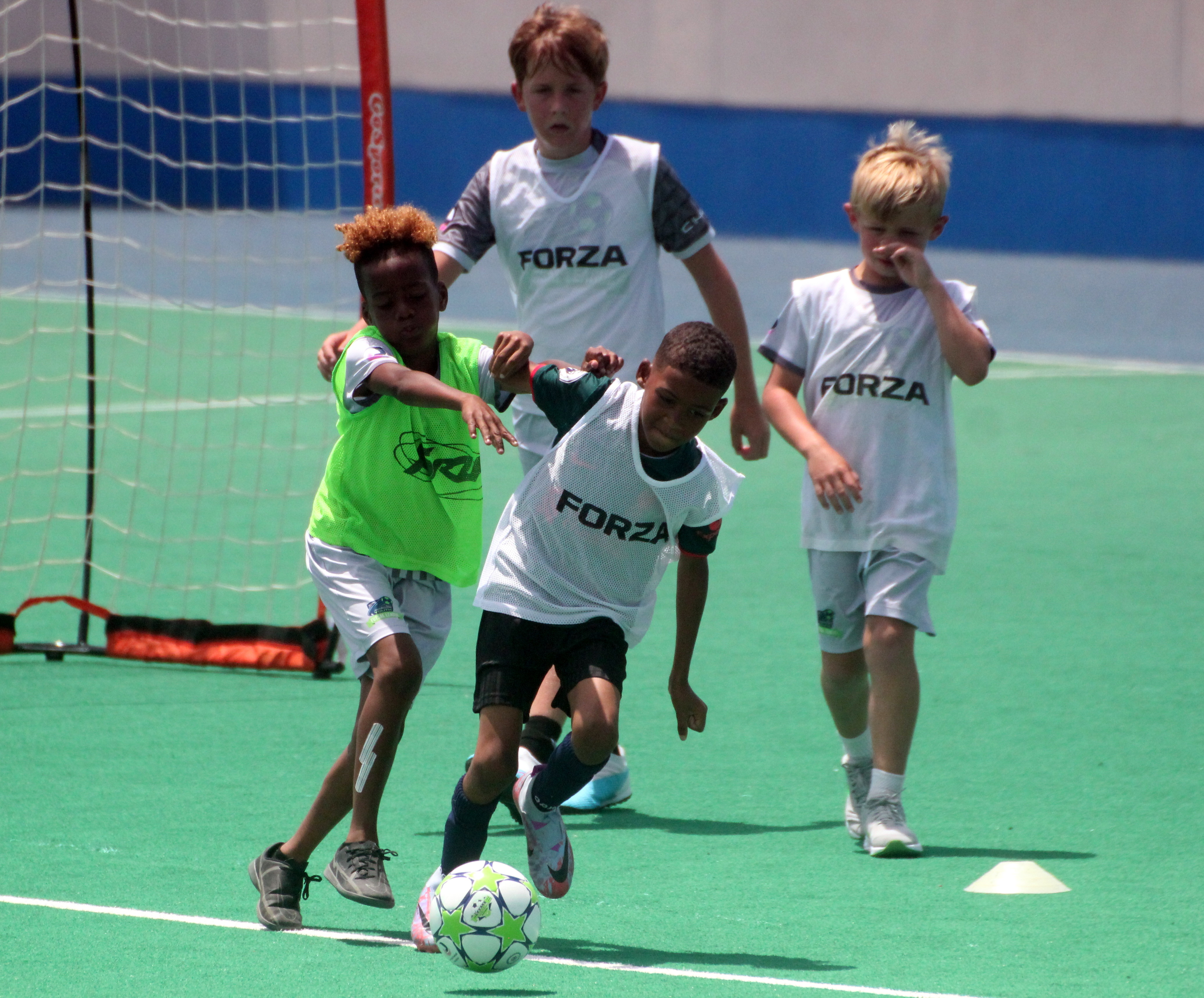 The Youth Futsal League had another exciting week of action, with a total of 62 goals scored. The matches have been highly competitive, showcasing the skill and determination of the participating teams. As the league nears its conclusion, the race for the top spot in the standings is intense, with the following updates:
1. League Standings: Force Blue currently holds the lead in the league standings, demonstrating their strong performance throughout the season. However, Force Black and Navy are closely trailing as a competitive second and third place, respectively. The battle for the top position remains tight, promising an exciting final week of competition.
2. Leading Goal Scorer: Mackay Browne (Force Blue) has proven to be a key player in front of the goal this season, contributing to the success of his team. With an impressive tally of 34 goals scored so far, Browne has showcased his scoring ability and played a huge role in his team's performance.
As the final week approaches, this Sunday, the teams will look to give their all in the Youth Futsal League.
GREY 2 vs BLACK 4
Hasan Ming (Grey) scored 2 goals
Cameron Camara (Black) and Nikolai Shaw (Black) scored 2 goals each
NAVY 1 vs RED 0
Shiloh Stevens (Navy) scored 1 goal
WHITE 0 vs YELLOW 2
Jerzii Hayward-Rawlins (Yellow) and Daroi Tacklyn-Lightbourne (Yellow) scored 1 goal each
GREY 0 vs NAVY 1
Hasim Ming (Navy) scored 1 goal
RED 0 vs BLUE 2
Mackay Browne (Blue) and Jayden Lopes (Blue) scored 1 goal each
BLACK 7 YELLOW 0
Roman Gaglio (Black) scored 4 goals
Nikolai Shaw (Black) scored 2 goals
Seth Neill (Black) scored 1 goal
BLACK 2 vs NAVY 0
Nikolai Shaw (Black) and Seth Neill (Black) scored 1 goal each
WHITE 2 vs RED 1
Cyme Dowling (White) scored 2 goals
Amir Clermond (Red) scored 1 goal
YELLOW 1 vs GREY 1
Daroi Tacklyn-Lightbourne (Yellow) scored 1 goal
Daez Tear (Grey) scored 1 goal
BLUE 2 vs BLACK 1
Mackay Browne (Blue) scored 2 goals
Roman Gaglio (Black) scored 1 goal
NAVY 2 vs YELLOW 0
Shiloh Stevens (Navy) scored 2 goals
GREY 2 vs WHITE 0
Hasan Ming (Grey) and Kamden White (Grey) scored 1 goal each
NAVY 1 vs BLUE 2
Kenzo Pitcher-Wade (Navy) scored 1 goal
Mackay Browne (Blue) and Zoah Fox (Blue) scored 1 goal each
YELLOW 0 BLACK 5
Nikolai Shaw (Black) and Roman Gaglio (Black) scored 2 goals each
Lucas Amaral (Black) scored 1 goal
RED 0 vs GREY 0
BLUE 3 vs WHITE 1
Mackay Browne (Blue) scored 2 goals
Jayden Lopes (Blue) scored 1 goal
Aric Argent (White) scored 1 goal
BLACK 0 vs NAVY 1
Kaiden Burch (Navy) scored 1 goal
YELLOW 1 vs GREY 0
Jaden Walrond scored 1 goal
WHITE 1 vs RED 1
Cyme Dowling (White) scored 1 goal
Nahj Richardson (Red) scored 1 goal
NAVY 0 vs BLUE 1
Mackay Browne (Blue) scored 1 goal
GREY 0 vs BLACK 4
Seth Neill (Black) scored 3 goals
Roman Gaglio (Black) scored 1 goal
BLUE 1 vs RED 1
Zoah Fox (Blue) scored 1 goal
Amir Clermond (Red) scored 1 goal
WHITE 0 vs YELLOW 2
Jerzii Hayward-Rawlins (Yellow) scored 2 goals
GREY 2 vs NAVY 2
Hasan Ming (Grey) and Daez Tear (Grey) scored 1 goal each
Shiloh Stevens (Navy) and Hasim Ming (Navy) scored 1 goal each