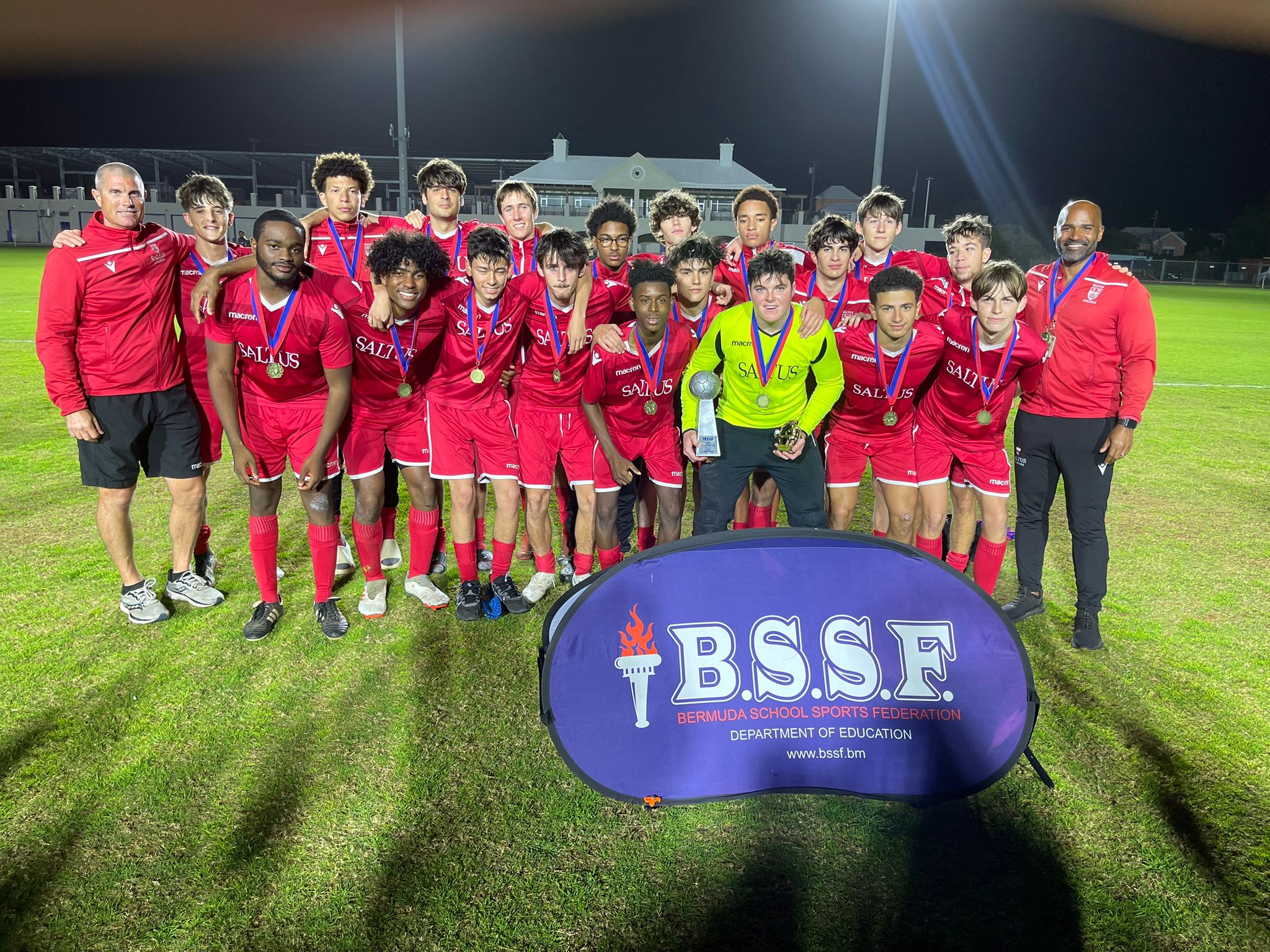 Middle School Over 13 Final

Saltus 4 Warwick Academy 2
Saltus Grammar School defeated Warwick Academy 4-2 in the Middle School Over 13 Final.
Warwick took the lead in the 15th minute after through Sakari Lewis. The powerful forward used his quick pace to beat the Saltus defense and drive his effort over the reach of the Saltus goalkeeper. Saltus would pull level in the 23 minute when Curtis Jackson Jr scored from a 40 yard free kick. Saltus would take the lead in the 29th from a Christian Piney penalty. Piney dispossessed a Warwick defender before slotting past the advancing Warwick goalkeeper two minutes later to make it 2-1.
Declan Reardon put the match out of reach two minutes into the second half. Lewis would add a second goal for Warwick midway through the second half. Lewis and Piney were both named MVP for their respective teams.
Senior School Girls

Berkeley Institute 3 Warwick Academy 0
The Berkeley Institute won the Senior School Girls Final 3 – 0 over Warwick Academy.
Jahni Simmons opened the scoring having the simple task of tapping in a well-placed cross from Keidel Astwood. Simmons turned provider in the 43rd-minute crossing for Astwood to slot the ball past the Warwick goalkeeper.
Simmons rounded out the scoring with a blast from the top of the box. Ashley DeSilva was named MVP for Warwick Academy with Jayla Peets Butterfield earning MVP honors for Berkeley Institute.
Senior Boys Over 16 Final

Saltus Grammar School 2 (4) Berkeley Institute 2 (1)
A penalty shootout was needed to separate the two Pembroke schools as Saltus defeated Berkeley Institute 4 – 2 on kicks from the Penalty Mark after the teams ended 2 – 2 in regulation.
Tre Burgess gave Saltus the lead in the 20th minute after receiving a pinpoint pass from Martin Grant. Berkley equalized in the 32nd minute when a long free kick from Daion Swan Desilva eluded everyone in the box including the Saltus goalkeeper.
Burgess gave Saltus the lead for the second time converting a penalty in the 52nd minute after a Berkeley defender handled the ball. Berkeley equalized in the 70th minute with a penalty of their own. Rajae Whitter was brought down in the box as he advanced on goal. Whitter scored the penalty himself setting up an exciting final twenty minutes.
Neither team could find the back of the net sending the game into a penalty shootout. Saltus MVP Brendan Sangster saved Berkeley's second and third penalty while his teammates converted their first four securing the victory for Saltus. Jonah Faria, Ayden Morris, Ben Autmezguine, and Burgess all converted for Saltus while Kristian Cherrington scored the lone spot kick for Berkeley. The evening was capped off with a great show of sportsmanship as Berkeley captain Zakao Hart asked to present the winning trophy to Saltus captain Burgess.