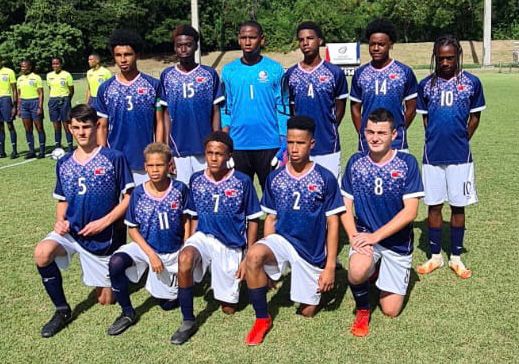 Dominica 0 Bermuda 9
Bermuda's Under 14 Boy's National Team got their 2022 Caribbean Football Union (CFU) U14 Challenge Series underway with a big 9 – 0 win over Dominica.
Click Here to see
Bermuda vs. Dominica Under 14 CFU Challenge Goals
Bermuda Starting Line-Up:
Jai Simmons, Patrick Dill, Kennahz Fray, Dakayo Leverock, Logan Jimenez, Roger Williams, Joseph Carolo, Azende Trott Smith, Syhon Goater, D'Ari Coddington, Mosiais Mills -
Substitutes:
- Caleb Grant, Tiago Corriea, Cairo Tucker, Keori Binns Leverock, Callum McIntosh, Xenai Williams Savery, Cameron Adkins, Cavin White, Micheal Burcher
Bermuda took the lead in the 3rd minute when Logan Jimenez pounced on a loose ball in the box and scored from 6 yards out, two minutes later the score was doubled, a ball kept alive across the goal found Roger Williams who made no mistake with a left footed shot.
In the 7th minute Williams would make it 3 – 0 to Bermuda as he chipped the goalkeeper from outside the box. In the 17th minute it was 4 – 0, captain Kennahz Fray picked up the ball some 25 yards out and his blast beat the Dominica goalkeeper to his right.
Bermuda too that lead to the break.
In the 40th minute Bermuda would go ahead 5 – 0 as Azende Trott-Smith scored from a goal mouth scramble following a corner. Four minutes later Bermuda would find the net again from a corner, Fray scored his second of the game blasting in from inside the box.
In the 46th minute fray would get his hat-trick as he scored from a Jimenez cross beating the goalkeeper to his left. In the 65th minute Tiago Corriea found the back of the net from close range to make it 8 – 0, before Keori Binns Leverock closed out the scoring one minute later with a shot from the edge of the box.