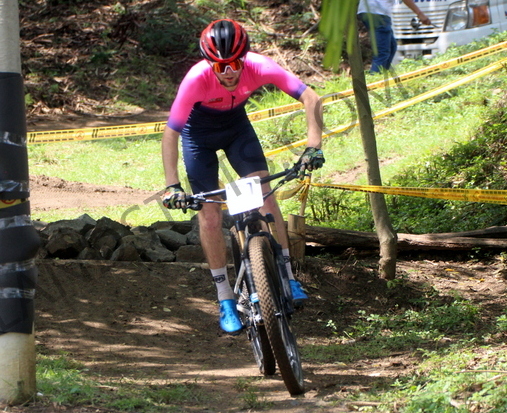 Bermuda Mountain Bike Champion Robin Horsfield will return to the island for his Christmas Break. While on the island Horsefield will host a three-day Mountain Bike Clinic for island youth, sponsored by the Fat Tire Massive Mountain Bike Group.
"It will be great fun to be back on the island and work with the next generation of mountain bikers," says Horsfield. "I'm looking forward to working with my childhood friend and neighbor, Conor White, as we run development camps for the kids. It wasn't too long into my own development that FTM took over the mountain bike program... it is fantastic to be able to give back."
Horsfield's season included multiple citizen-level race wins, mixed results at the Canada Cup level, a category win in a 1000+ participant road race, a Junior Pan Ams finish (16th), and a career-best second overall ranking in the Ontario Cup Mountain Bike Series. "We had targeted the Canadian National Series as the main season goal for this year... two flat tires and rain put a damper on this target early in the season."
Horsfield had a career performance at the Canada Cup in Whistler, BC where he fought back from the very back of the pack after being crashed into twice to regain the group and finish a respectable 16th place. However, his best results were found at the provincial level where he has become a known entity and was able to dictate race pace for the first time in his career.
Coach Mark Brown notes that many of the necessary pieces for Horsfield are coming together. "We have always held a long view - we recently did some 'data mining' and found that Robin has seen massive physiological development in the energy systems specific to mountain bike racing.
This, combined with Robin's continued technical development, resulted in new abilities. Robin has always bought into the concept that excellence comes from surrounding himself with the best possible athletes... a first place means very little if you're not in the right race. That experience, which certainly includes a fair share of losing, is starting to pay off."
Horsfield is targeting an early season start at the Continental Championships to be held in Brazil in late April. This provides Horsfield's only opportunity to qualify for the 2024 Olympics. Bermuda does not have the depth of riders or points required to qualify a mountain bike athlete for the Olympics so Horsfield must be the first athlete across the line of all North American countries who also have no Olympic quota.
"While this year's qualification won't be easy it doesn't take an inordinate amount of imagination to see it happening," says Brown. "It's certainly far easier to imagine than rolling the clock back 10 years to a little race at Fort Scaur and picturing where Robin is on the bike today."
Following his Christmas Break training in Bermuda Horsfield will take to his cross-country skis back in Ontario to hold some form through the winter months.