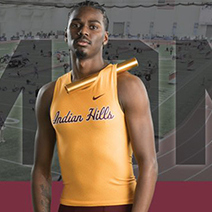 Nathan Simons
IslandStats.com
Two Bermuda track Athletes represented their Universities in Indoor Meets.
STEPHAN DILL
Stephan Dill and his Johnson C. Smith University Men's Track and Field teammates competed in the South Carolina Invitational in Columbia, South Carolina.
Dill competed in the Menís 60 Meter Dash Qualifiers clocking a time of 7.07 finishing 36th.
NATHAN SIMONS
Nathan Simons representing Mount Marty University Menís Track and Field competed in the Mount Marty Open Indoor Track Meet.
Simons competing in the Menís 400 Meter Dash clocked a time of 53.40 finishing 16th.