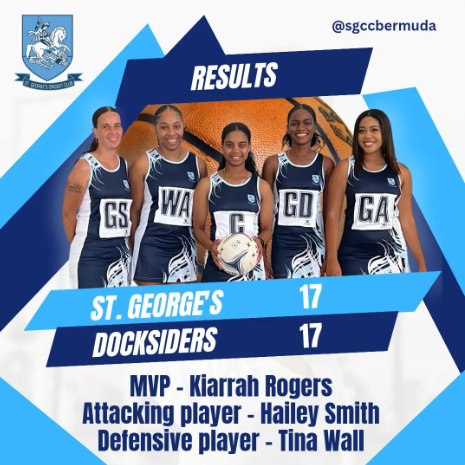 The Bermuda Netball Association's Senior League resumed inside the Bermuda College Gymnasium with a doubleheader.
In the opener, St. George's and Docksiders ended deadlocked at 17 – 17. St. George's where led by Kristin Holman with 16 goals, and Hailey Smith added 1 goal, while Kiarah Rogers was named MVP. T'yanna Hayward scored 10 goals for Docksiders, Diesha Tucker added 6 goals, and Lauren Abrahamse scored once, Ciara Izuchukwu was named the team's MVP.
The Storm defeated the North Village Lady Rams in the nightcap 40 – 31. Zakiyah Durham scored 27 goals to lead the Storm to victory, Amayah Burt added 10 goals, and Jamir Hatherley scored three times, Amali Smith was named the team's MVP. The North Village Lady Rams got 23 goals from MVP Darrika Simmons, Coriah Simmons added 7 goals, and Zhanae Simmons scored three times.