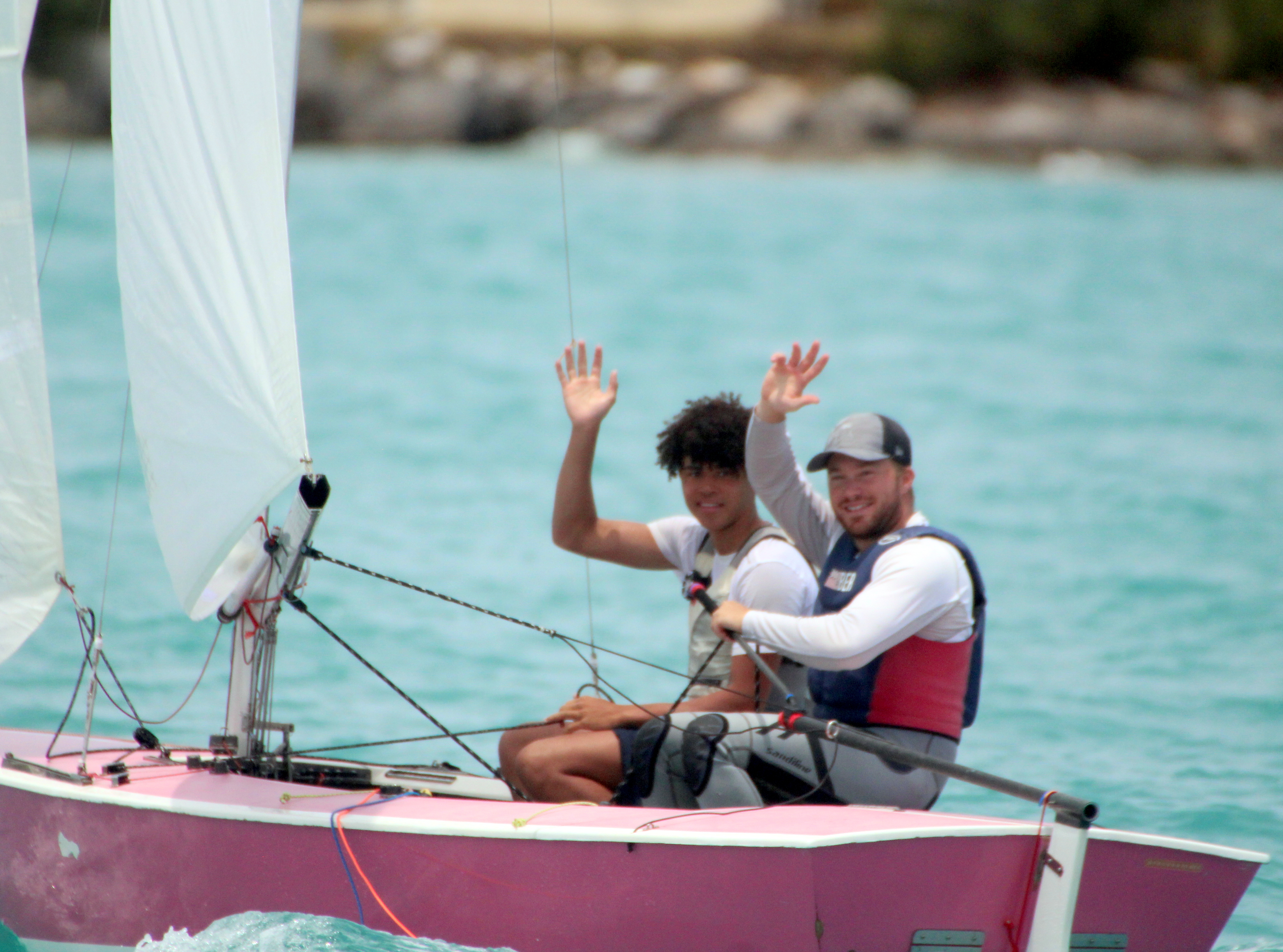 A new winner's name was placed on the Edward Cross Long Distance Race as Benn Smith and Christian Ebbin sailed to victory in the 78th Annual race that finished off the West End Sailboat Club.
Click Here to see
Pictures of Edward Cross Long Distance Race 2022
The pair got an average start as they were third out of the Town Cut after Scott Fox and his crew Joanna Santiago were in a commanding position out of the Town Cut.
Dale Brangman and his crew Tajahri Rogers were out second, Fox controlled the race rounding Fort St. Catherine, but from there Smith and Ebbin sailed past Brangman and Fox and took total control of the race.
Smith's win makes it five different winners in five years, which started with his father Malcolm five years ago. Back in 2011, Smith was on the winning boat as a crew with Rockal Evans, the only boat to finish the race that year.
Smith and Ebbin sailed a fast time of 1:58.01, with Dale Brangman second in 2:03.07, and the defending champion Stephen Dickinson finished third in
Edward Cross Long Distance Race 2022 Results

1:58.01 Benn Smith & Christian Ebbin – Summer
2:03.07 Dale Brangman & Tajahri Rogders – Rogue Wave
2:03.35 Stephen Dickinson & Wesley Tucker – Kitty Hawk
2:03.36 Maxwell Curtis & Jahron Dickinson – Pole Position
2:06.02 Scott Fox & Joanna Santiago – Get the Cat
2:09.18 Alan Frith & Phil Worboys – Orion
2:10.29 Rudy Bailey & Malahku Selassie – My New Mary
2:10.37 Gladwin Lambert & Stefan Maybury – Melody
2:13.47 Quinton Simons & Gregory Wade – Stir De Pot
2:14.17 Lorenzo Lambert & Gregory Wade – Sea Hawk
2:23.22 Antoine Wingood & Simon Vanipewig – Swizzle
2:25.28 Zaniko Hendrickson & Zanikae Hendrickson – Radical
2:47.09 Jakal Washington & Kacey Green – Lady Commodore