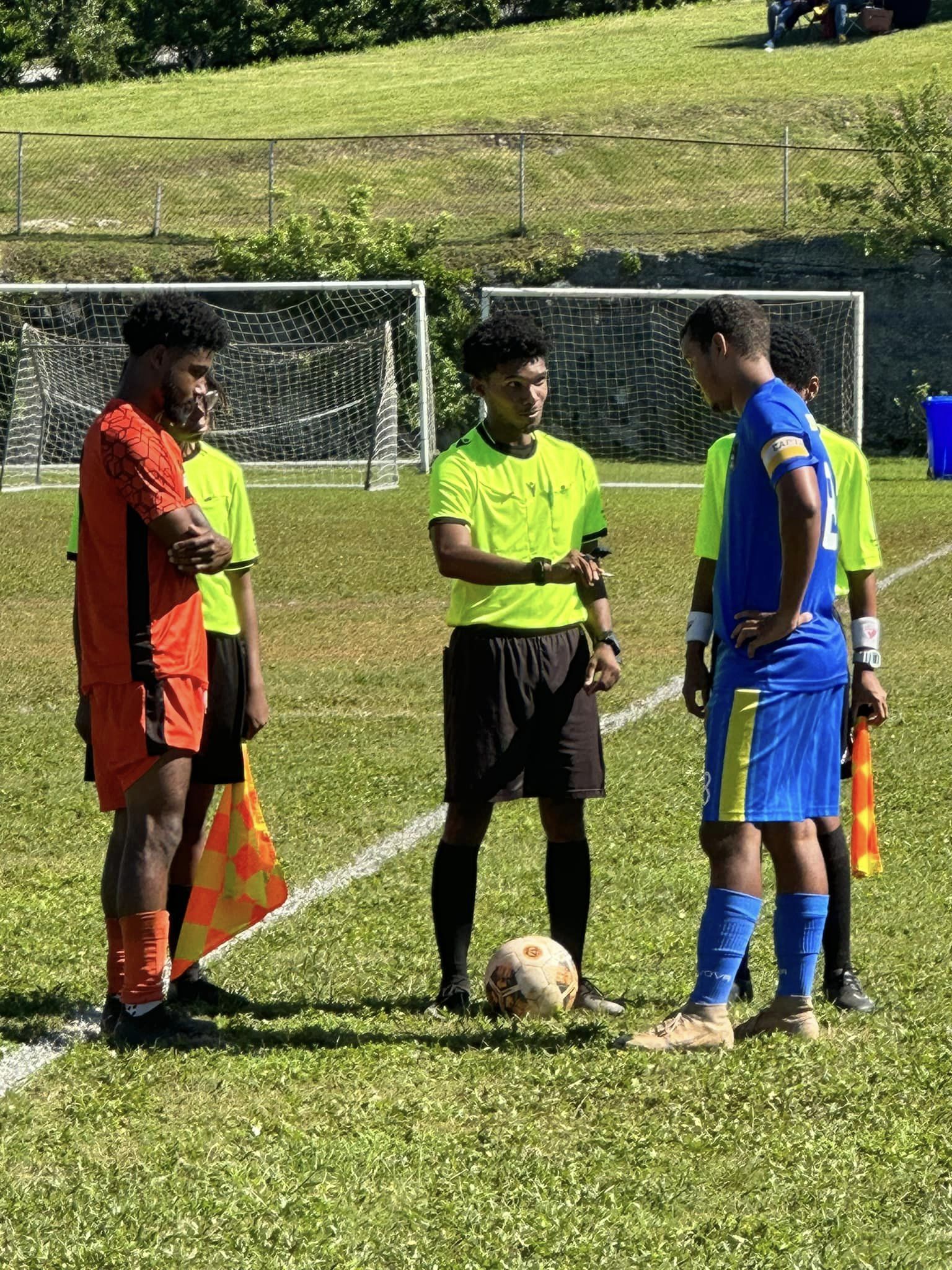 A total of 15 goals were scored on this Sunday in Premier and First Division action, the First Division will definitely get Monday morning coverage, usually First Division Football is ignored until Tuesday or Wednesday by the printing press, however with Robin Hood players deciding to walk off the field after having three players sent off, it will more than likely get First Division coverage in the printing press on Monday.
Premier Division

North Village Rams 2 X-Road's 0
At the Bernard's Park, the North Village Rams took sole possession of first-place in the Premier Division following their 2 – 0 win over X-Road's.
Jalen Harvey gave the North Village Rams the lead in the 45th minute, with D'Andre Wainwright doubling the lead in the 70th minute.
Young Men Social Club 1 PHC Zebras 0
At the Police Field, Young Men Social Club edged the PHC Zebras 1 – 0.
After a scoreless first half, David Jones Jr. scored the lone goal for Young Men Social Club to come away with a 1 – 0 win.
Hamilton Parish 0 Dandy Town Hornets 2
At the Wellington Oval, the Dandy Town Hornets defeated Hamilton Parish 2 – 0.
The Dandy Town Hornets got single strikes from Angelo Simmons in the 25 minute, and Jahzardae Samuels in the 84 minute in the win.
First Division

Wolves 2 St. David's 0
Wolves picked up their second win of the season following this 2 – 0 win over St. David's.
Jared Peniston would score both goals for Wolves to claim the victory.
Boulevard Blazers 4 Robin Hood 1
At the BA Field, the Boulevard Blazers defeated Robin Hood 4 – 1.
The Boulevard Blazers got to goals from Shaquille Dill, and Ian Coke, while Clay Darrell scored the lone goal for Robin Hood.
Robin Hood had three players sent off in the match, leading to members of the team deciding to walk off the field.
Devonshire Colts 3 Somerset Eagles 0
At the Police Field, the Devonshire Colts defeated the Somerset Eagles 3 – 0.
The Devonshire Colts got single strikes from Sagé Blair-Paynter, Chemarl Henry, and Daniel Ball.