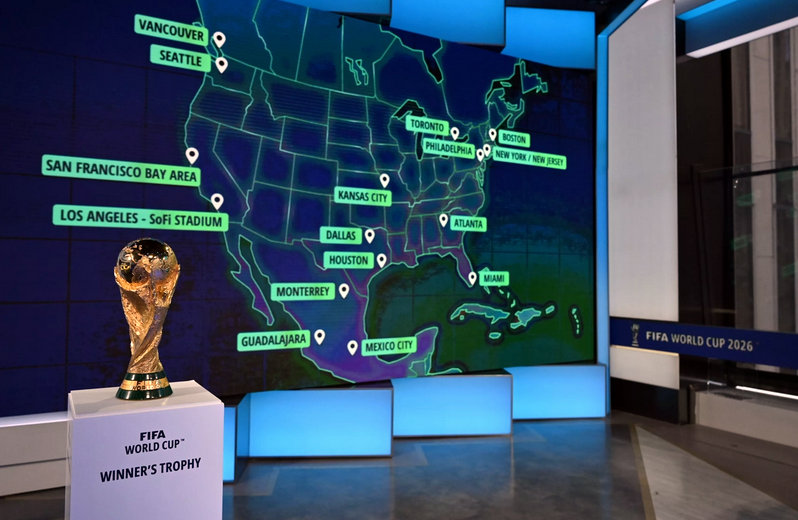 FIFA has switched the format for the expanded 2026 World Cup back to four-team groups.
The competition in the United States, Mexico, and Canada was due to feature 16 groups of three because the number of teams is increasing from 32 to 48.
But the success of the four-team format at the 2022 World Cup in Qatar caused the governing body to reconsider.
The move expands the competition from its projected 80 matches to 104, including a new round-of-32 stage.
FIFA said the top two and eight best third-placed teams would progress to the last 32.
"The revised format mitigates the risk of collusion and ensures that all the teams play a minimum of three matches while providing balanced rest time between competing teams," said world football's governing body.
The move was approved at FIFA's council meeting in Rwanda.
FIFA President Gianni Infantino said in December that the governing body was considering a format change after the group stages in Qatar included some exciting final games.
The four-team group format, with the top two going through to the knockout stages, has been used since the men's World Cup expanded to 32 teams in 1998.
The new round-of-32 stage means teams will have to play eight matches to win the tournament, compared to seven at the 2022 World Cup.
FIFA approved a men's international match calendar from 2025-2030 and said that "based on the new calendar, the Fifa World Cup 2026 final will be played on Sunday, July 19th, 2026".
It added that the "mandatory" date for which clubs must release players for the tournament will start "on May 25th, 2026, following the last official club match on May 24th, 2026" and that "exemptions may apply to the final matches of confederation club competitions until 30 May 2026 subject to FIFA approval".
The women's international match calendar keeps its six international windows per year and includes the women's Olympic football tournament, which will take place from July 25th to August 10th, 2024.