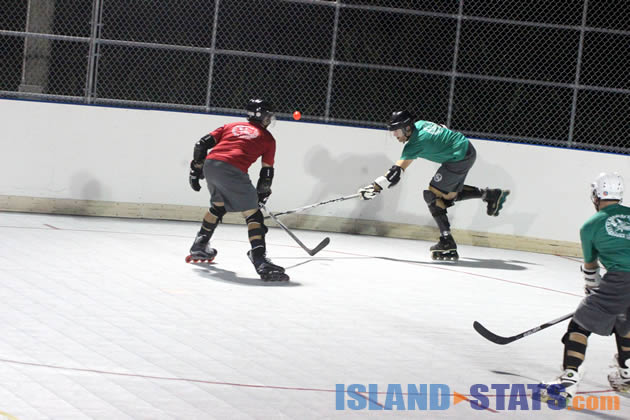 The Bermuda Inline Ball Hockey League season resumed following several cancellations due to inclement weather, a total of 29 goals were scored in a doubleheader at the PCC Hockey Rink.
Southampton Sailors 9 St. Davidís Islanders 7
In the opener, the Southampton Sailors defeated the St. Davidís Islanders 9 Ė 7.
Ryan Wilson would lead the Southampton Sailors with a hat-trick, while Doug Lynch added two goals, Will Walker, Mathieu Desjardins, Kevin Mason, and Shawn Mckee all added a goal each.
The St. Davidís Islanders got 4 goals off the stick of Kris Abramowski, 2 goals from Chris Grantier, and a single strike from Chris Lemieux.
Warwick Waves 10 Tuckers Town Tropics 3
In the nightcap, the Warwick Waves defeated the Tuckers Town Tropics 10 Ė 3.
The Warwick Waves got 2 goals from Doug Lynch, Wayne Woloshyn, Seth Duerden, and Wyatt Woloshyn, they also got single strikes from Marcel Bouwens, and Richard Campbell.
Kris Abramowski scored twice for the Tuckers Town Tropics, with Matthew Benson adding the other.