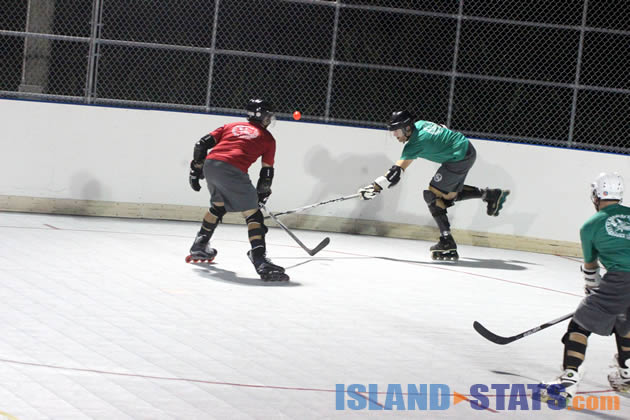 The Bermuda Inline Ball Hockey League season continues at the PCC Hockey Rink, www.islandstats.com takes a look at the Current Stats and Standings.
All four teams have won a match leaving everyone on 2 points.
Jeremy Estey, from the St. David's Islanders, leads the League in Points with 10, Doug Lynch from Tuckers Town Tropics, and Jeff Ingleman from the Warwick Waves both have 7 points.
Bermuda Ball Hockey Division Standings

02 St. David's Islanders
02 Warwick Waves
02 Tuckers Town Tropics
02 Southampton Sailors

Bermuda Ball Hockey Points Leaders

10 Jeremy Estey – St. David's Islanders
07 Doug Lynch – Tuckers Town Tropics
07 Jeff Ingleman - Warwick Waves
06 Chris Grantier – St. David's Islanders
06 Ryan Wilson – Southampton Sailors
06 James Amaral – St. David's Islanders
06 Rich Campbell – Warwick Waves
Bermuda Ball Hockey Leading Goalscorers

07 Jeremy Estey – St. David's Islanders
04 Doug Lynch – Tuckers Town Tropics
04 Chris Grantier – St. David's Islanders
04 Ryan Wilson – Southampton Sailors
04 Matthew Benson – Tuckers Town Tropics
04 Jonas Parker – Warwick Waves
Bermuda Ball Hockey Leading Assist

06 Jeff Ingleman - Warwick Waves
05 Rich Campbell – Warwick Waves
05 Ronnie Dzurus – Warwick Waves
04 Marcel Bouwens – Warwick Waves