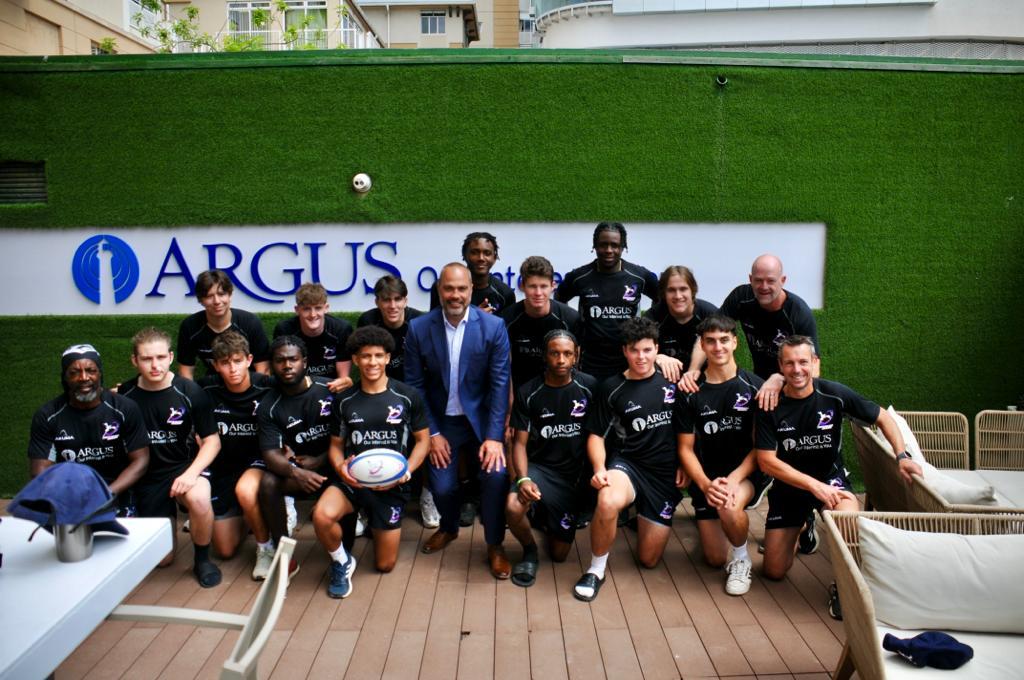 The stage is set for the 2023 Rugby Americas North (RAN) Menís U19 Tournament next week Ė and Bermudaís Under 19ís are ready to take the title.
Bermuda narrowly missed out on a place in the final of the Rugby Americas North Under-19 tournament last year, missing out to Jamaica who got through on points scored in the tournament after the teams played out an 8 - 8 draw.
Six Menís Under 19 teams are set to compete across the 4-day tournament, with Bermuda seeding 3rd amongst the competition based on last yearís performance, which includes teams from the USA South, Jamaica, Cayman Islands, Trinidad and Tobago and Guyana.
ďThe squad have trained incredibly hard for this competition and spirit are high as they prepare for this competition. Following their impressive performance in 2022 and the continued progression and development weíve seen from these players, we are excited to see what they can do in Kingston next week Ė they will be a force to be reckoned with and not to be underestimated.Ē commented Head Coach Chris Naylor.
In preparation for the tournament, the U19s have just returned from an invitational tour to Gibraltar, which was used as a training week ahead of RANís international fixture. During their week-long camp, they played Gibraltar's U19s, which was a great learning opportunity for the team. The squad gained a lot from the experience, highlighting what they need to work on ahead of their upcoming international and was also a chance for their UK-based players, who are away at school, to train and play with the Bermuda-based players.
The final score was 24 - 17 to Gibraltar but it was an incredibly tight game. With 8 minutes to go the score was 17-17, with Tryís from Kwame Naylor and Aiden Kendall. Bermuda outscored Gibraltar 3 Tryís to 2 but they clawed their way to the front on penalties. It was a very tight game with an opportunity to equalize and draw at the end, but overall an excellent experience and just what the team needed in terms of tournament preparation. Although they were disappointed to lose, as the saying goes, you learn more from a defeat than a win.
The squad is comprised of the following players: Osiris Buffonge-Hunt, David Cole, Gareth Cooper, Remi Cooper, Ryan Daniel, Jake Dunleavey, Jaime Furtado, Sam Jenkins, Aiden Kendall, Peter Komposch, Daniel Kunst, Pedro Labollita, Noah Murdoch, Kwame Naylor, William Nokes, Malachi Paynter, Brandon Sangster, Nyindae Smith, Devon Soto, Wysdem Symonds and Nathan Wilson.
The team is led by a stellar team of coaches and management, including Naylor, Anthony Cupidore and Jeff Sangster, who are equally proud and excited to see what the team can do.
The Bermuda Rugby Football Union would like to thank team sponsor Argus for their support in helping to create this opportunity for Bermudaís promising young players.
The tournament will be held at the University of West Indiesí Mona Bowl from July 12th Ė 16th. Fans tuning in within the Caribbean can watch live on SportsMax 2, SportsMax YouTube, and on the SportsMax App. Fans across the rest of the world can catch the action on RANís website at www.rugbyamericasnorth.com.