Monday, September 18, 2023
Berkeley & Lander Fall to Life University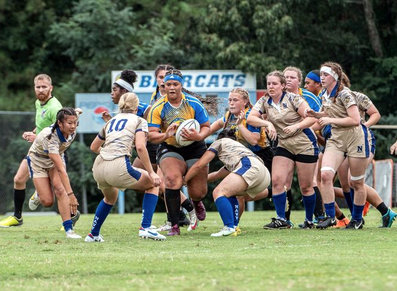 Nisaiah Berkeley and her Lander University Women's Rugby teammates went down 21 – 6 to Life University.

Tuesday, September 12, 2023
Hodgkins & Wanders Fall to St Peters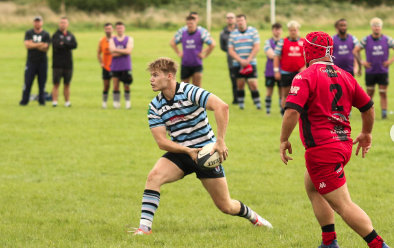 On a powerfully hot sunny day with no shade, for the second week in a row, Jamin Hodgkins and his Wanderers teammates kicked off at 3 pm only to find they were 13 - 0 down to a spirited St Peters side early. For the larger players there was no respite in the heat and rehydration for both sides was certainly a priority. Concerns exist that the Wanderers need to realize that a penalty count against their team's name is not a positive on the scoreboard, and needs to be driven home, as once again the official found fault with nearly everything the visitors did. A well-worked catch and drive opened the scoring for the home side and two penalties put them comfortably ahead before the Wanderers woke up. Eventually realizing the invisible force field across the "Rocks" 22 was fictitious they started to gain some momentum but it was about as rare as the clouds. A penalty from Harry Carson reduced the arrears but just as the visitors gained a foothold and applied pressure with a driving maul the referee called a halt to the half. Half time 13-3.
With no letup in the sun, the Wanderers did kick the half off with a more positive intent. A Try from Ceri Morris reduced the arrears to 13-10 but normal service was resumed as St Peters regained control of the proceedings. Their second Try edged them ahead again and as the visitors wilted in the sun like some ageing sunflowers there was only going to be one winner. Occasional moments gave the "Massiv" a distraction from the search for shade but execution in the St Peters 22 was poor. Third and fourth tries rounded off a well-deserved win for the home side and sent the Wanderers back with their tails between their legs falling 31 - 10.

Saturday, September 02, 2023
Berkeley Helps Lander Win Back-to-Back Games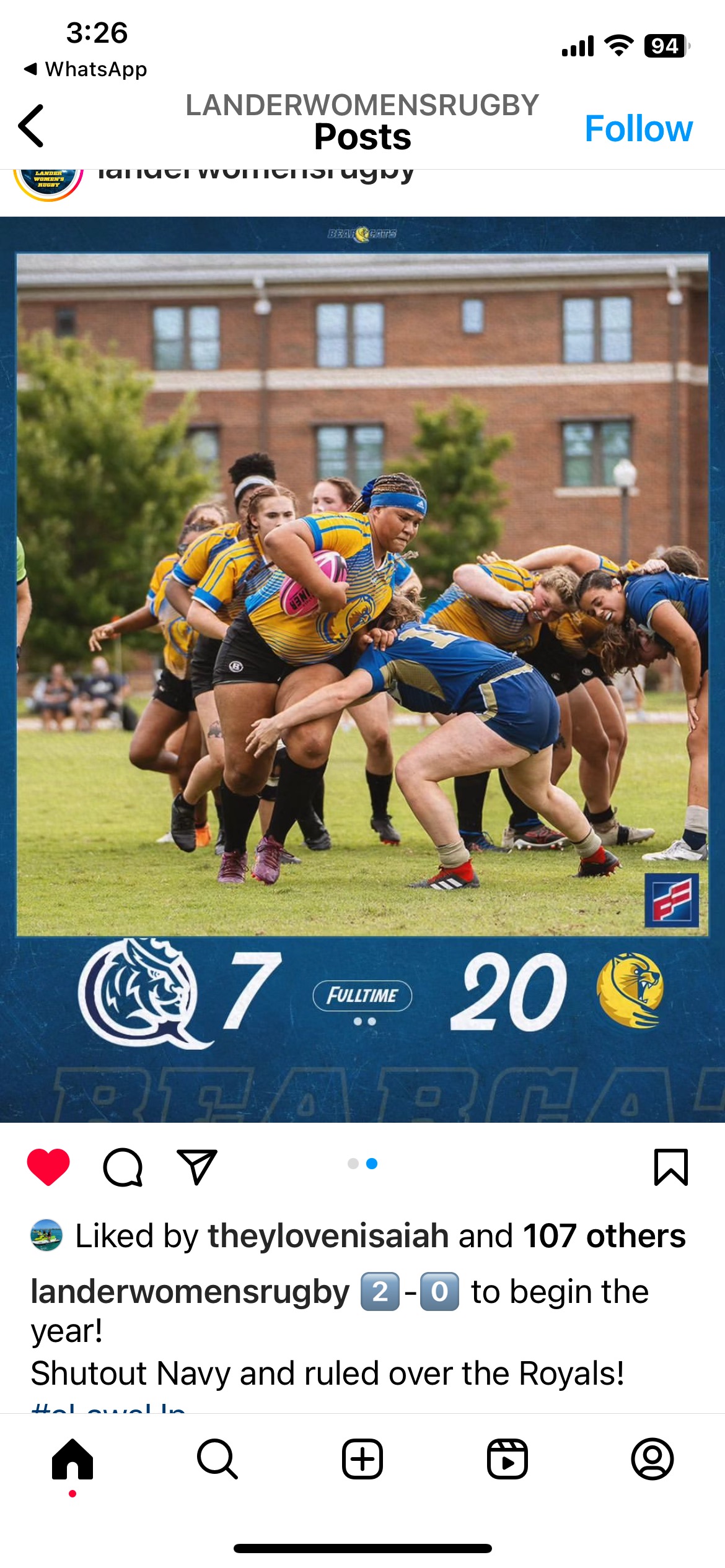 Nisaiah Berkeley and her Lander University Women's Rugby teammates started the year 2-0 with a 12 - 0 win over Navy and a 20 - 7 victory over Queens.
Lander University also collected their first wins in NIRA after fully joining last season.
In their first game, Lander University converted tries in the first and second half against Navy. Alli Davis got the first points of the season to put Lander up 5-0 before Julia Anhalt drilled a kick to put Lander in front 7-0. Alexis Dallas finished up the scoring in the second half with a late try to push Lander University ahead 12-0.
Game two saw Lander University strike first and didn't look back in their second game of the day as they took down the Queens Royals 20-7.
Davis and Berkeley had first-half tries to put Lander ahead 10-0 by halftime. Dallas and Grace Taylor added second-half tries before Queens got its first points of the game to make it a 20-7 contest midway through the second half. Lander would hold Queens off the scoreboard for the rest of the contest to take its 20-7 victory.

Sunday, August 20, 2023
Bermuda Suffer Heavy RAN Sevens Defeats
The 2023 Rugby Americas North (RAN) Sevens, took place at Starlight Stadium on Vancouver Island.
Bermuda was handed four heavy defeats over the tournament.
In their opening match, Bermuda went down 35 – 7 to Mexico, Bermuda would then fall 62 – 0 to USA.
Bermuda would next take on Jamaica, they would be defeated 45 – 0, and in their final match of the tournament, Bermuda would fall 31 – 0 to Barbados.
Following the tournament, Tashon DeSilva announced his retirement.

Wednesday, August 16, 2023
Bermuda Team Announced for RAN Sevens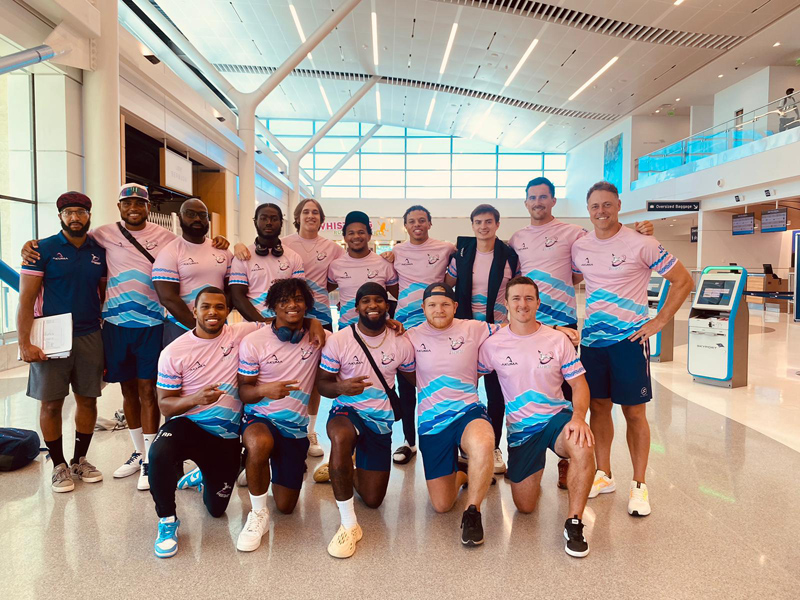 Rugby Americas North (RAN) has announced the schedule for the 2023 RAN Sevens, taking place at Starlight Stadium on Vancouver Island.
Bermuda Men are in Pool A alongside USA and Mexico.
The Bermuda team: Alexander Brown, Tashon DeSilva (captain), Myles Dismont, Steven Doyling, Jahniko Francis, Michael Kelley, Tyler Kendall, Aiden Kendall, Malachi Paynter, Antonio Perinchief, Jakee Simmons, Hadleigh Tucker, Faizon Augustus
On Saturday August 19th, Bermuda will take on Mexico in the tournament opener at 10:30 am, before facing off against USA at 1:14 pm