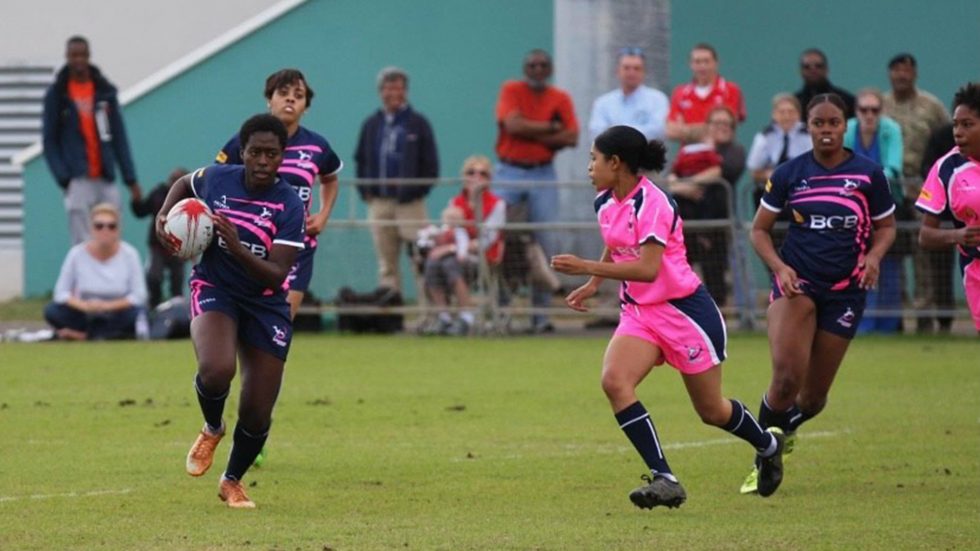 Rugby Americas North have a series running Women in Leadership Directive Profile today they feature Bermudaís Corrie Cross.
Cross took up rugby in her teens and has been playing ever since. Beginning with touch rugby, before progressing into the contact game, Corrie has represented Bermuda as a national team player, captaining the Under 19s for the 2017 Youth Commonwealth Games, and later joining the senior 7s squad.
A standard fixture in the rugby community, Cross discovered the sport, as Bermuda began to establish a womenís program. Affectionately considered a youngster among the rugby community, Cross credits starting young with helping her develop her skills. ďI think starting young was extremely helpful as it provided me with good base standards for how I play. It also allows me to think ahead when I play now because my basic mechanics are almost muscle memory at this point. From a social perspective itís really great because Iíve grown with the rugby community and feel connected to it at a much deeper level than most. My whole immediate family is involved in rugby as well, so itís really ingrained in my life.Ē
During her studies in the UK, Cross was fortunate to get exposure to the 15s game, which has yet to be established in Bermuda. Representing the Coventry University womenís team, she also earned a space on the Tyrellís 15s Premiership Worcester Valkyries, where she played for one season. The transition from a small 7s style league to full contact 15s wasnít an easy one.
ďIt was a bit overwhelming at first. I went from the small local atmosphere and intensity to the massive cultural experience of rugby, in the place where rugby was born. It was almost like going from 0-100. That being said, it was really confirming of my skills and passion because I realized I was able to achieve a relatively high level of competition out in the UK, and the fact that I didnít have that all-consuming feeling of being overwhelmed was something I was proud of. I had also never played 15s before, so I enjoyed learning the nuances of the games and understanding what kind of player I was.Ē
ďPlaying for Worcester Valkyries was never something that I thought would happen. I didnít have any ambitions of playing at that level because I didnít realize it was available to me. I learned so much playing for that team and appreciated every moment I had there. It was exciting because I was going in with nothing to lose, I just wanted to enjoy it for what it was. I wish I could have continued playing with them throughout the duration of my time in the UK, but I was there for school, and I couldnít manage the demands of an intense Architecture Degree and premiership rugby, so I had to choose one. That was probably the only downfall of the experience.ď
Returning to Bermuda in 2019, Cross planned to resume playing rugby in the local touch league, and on the nationals 7s team. Getting in a few months on the pitch, including a RAN 7s tournament, Corrie, and the entire rugby scene were sidelined by the COVID-19 pandemic. Hopeful for a full season to take place over 2021/2022 Cross has also expanded her rugby prowess, joining the Bermuda Rugby Football Union as the communications officer.
ďI want to make the BRFU social media presence more universally recognized on the island. I want to be able to push the message that rugby is for everyone. I think locally, there is a bit of a disconnect between the rugby community and the broader sporting community and hopefully I can fill that gap. I think maintaining the PR standard is the first step, but then developing a team of people working around PR will help push the efforts because more brains means better ideas.Ē