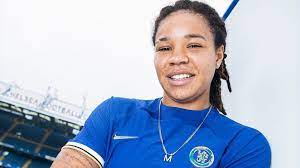 Chelsea is delighted to confirm the signing of Mia Fishel, with the American forward joining the Blues from Mexican side Tigres ahead of the 2023/24 season.
The 22-year-old has penned a three-year deal with Chelsea until the summer of 2026. Fishel makes the move to London from Liga MX Femenil, the highest division of womenís football in Mexico, where she has represented Tigres since January 2022.
Speaking on signing for Chelsea, Fishel said: ĎIím super excited, itís a dream come true and everything that Iíve worked for since I was a kid until now. Itís all worth it and itís all paid off because now Iím playing for one of the best clubs in the world.
ĎIím excited to know London, to meet the people and get to know everybody. Iím blessed and excited to start this journey with Chelsea.í