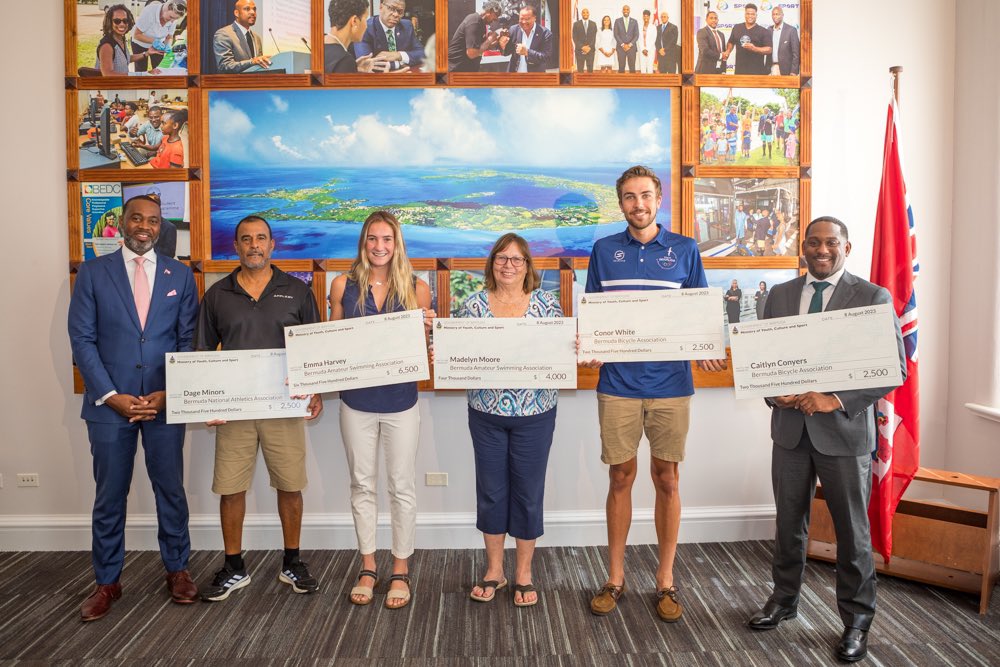 Premier David Burt and Sports Minister Owen Darrell presented the Outstanding Athletic Performance Incentive Awards five Bermudians who gave stellar performances in the recently held CAC Games.
1. Dage Minors received $2,500 for his Bronze Medal in the 1500 meters.
2. Caitlin Conyers received $2,500 for her Bronze Medal in the Women's Cycling Time Trial.
3. Conor White received $2,500 for his Bronze Medal in the Men's Cycling Time Trial.
4. Madelyn Moore received $4,000 for her Silver Medal in the 50 Freestyle.
5. Emma Harvey received $6,500 for her two medals, a Silver Medal in the Women's 50 meters Backstroke and a Bronze Medal in the Womens 50 meters Butterfly.
Premier Burt said, "I am extremely proud of Bermuda's Central American and Caribbean Games Athletes, who brought home 4 Bronze and 2 Silver Medals. Today, I joined the Minister of Youth, Culture and Sport, Owen Darrell, to congratulate our stellar athletes who have represented Bermuda well.
In recognition of their hard work, we presented Emma Harvey, Madelyn Moore, Dage Minors, Conor White and Caitlyn Conyers with checks totaling $18,000 collectively. These funds come as part of the Bermuda Government's 'Outstanding Performance Incentive Programme' for achieving the required standards to receive funding rewards."
Minister Darrell said, "The public should be aware that Bermuda's elite athletes who achieve the required standards to compete and secure a medal in prestigious events like the World Championships, Olympic Games, Pan American Games, Commonwealth Games, and the Central American and Caribbean Games, are entitled to receive funding rewards from the Government of Bermuda.
As part of our commitment, the Ministry of Youth, Culture and Sport has established the Outstanding Athletic Performance Incentive Programme to highlight the significant value that this Government places on those who perform at such a high caliber.
This initiative not only recognises the excellence of these outstanding athletes, but also represents the gratitude of the Government for the way that they represented Bermuda with pride and distinction.
From June 23 - July 9, 2023, Team Bermuda participated in the Central American and Caribbean Games (CAC Games) in San Salvador and the Dominican Republic.
During the games, our athletes performed exceptionally on the world stage, and today, we have a wonderful opportunity to recognize and celebrate those who have excelled in their respective sports disciplines.
Team Bermuda brought home six medals from the CAC Games:
I cannot think of a more fitting way to demonstrate our appreciation than by publicly recognizing these exceptional athletes who are making a difference and inspiring an entire country. Each of today's recipients has performed outstandingly well, and we extend our sincere appreciation to all of you.
I'm particularly pleased to offer these awards on the heel of July's presentation by the Government of more than eighty thousand dollars to elite athletes in recognition of sporting excellence. You are the embodiment of what can be accomplished with determination, commitment, and dedication."