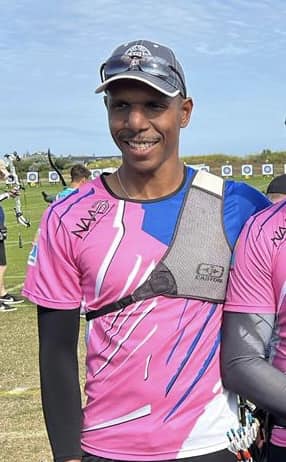 Bernard Wade III
IslandStats.com
On Day Two of the Island Games, Bermuda picked up their second Medal of the competition.
Archery
Bernard Wade III picked up Bermuda's second Medal of the competition as he won the Silver Medal in the Single WA 1440 Men's Recurve Division, Wade III finished with 1,193 points, while Robert O'Connor finished 30th with 695 points.
Tennis

Women's Singles
Shelby Madeiros won her opening match in straight sets 6-3, 6-3 against Mia Gerty from the Isle of Wight. Victoria Stephens went down in straight sets 6-4, 6-1 to Linda Jones from the Isle of Wight.
Men's Doubles
David Thomas, and Christopher Weeks defeated Chris Freeman, and Pieter Robinson from Guernsey in straight sets 6-3, 7-5. James Finnigan, and Gavin Manders defeated Andrzej Bielanowicz, and Itay Uman, from Gibraltar in straight sets 6-0, 6-0.
FOOTBALL

Men
The Bermuda Under 23 Men's team came from behind to edge Orkney 2 – 1, Craig Harrison gave Orkney the lead in the 8th minute, with Ne-Jai Tucker equalizing for Bermuda in the 45th minute. The winner came in the 67th minute when Enrique Russell scored.
Women
The Bermuda Women's National team picked up their second 4 – 0 win of the tournament after defeating Hitra.
Ashley Tutas gave Bermuda the lead in the 10th minute, Eva Frazzoni doubled the lead in the 17th minute. Symira Lowe-Darrell would make it 3 – 0 in the 60th minute before Leilanni Nesbeth closed out the match with a goal in the 73rd minute.
Badminton
Bermuda defeated the Cayman Islands 2 – 0, Aaron Simmons defeated Alexander Priestley 21-16, 21-7. And then Emma Moran-Lee defeated Claire Hughes 21-19, 21-18.
Track & Field
Sean Trott finished 10th competing in the Men's 10,000m, Trott clocked a time of 33:00.82.
Sailing
Two more races took place in the ILCA 6 Fleet racing to take the series to 4 races, Nicole Stovell is now in 2nd place with 14 points, after finishing 2nd in both races. Ahzai Smith is in 8th place with 34 points, he had finishes of 10th, and 8th on the day.