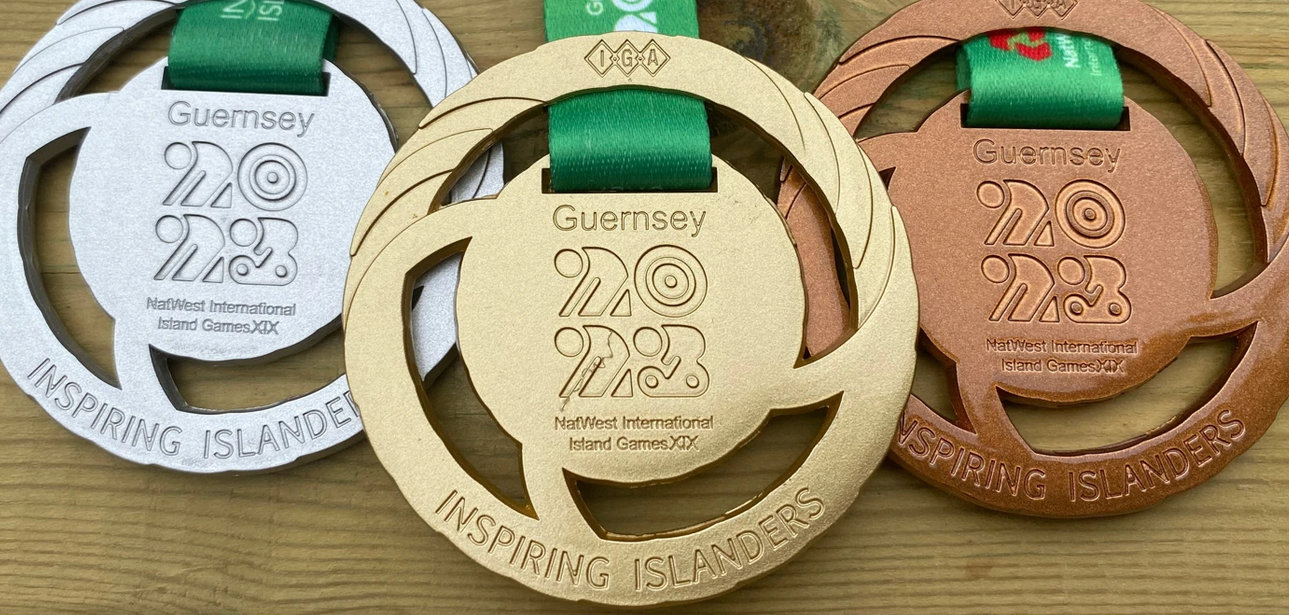 Guernsey2023 has unveiled the Medals that will be awarded to the winning athletes at the NatWest International Island Games in July.
Local graphic designer Chloe Sarre, who won the competition to design the Medals back in 2019, has finally seen her creation come to life.
Sarre's design features an outline of Guernsey in the center. The 24 segments on the outer circle represent the member islands all coming together in Guernsey. The other side includes the engraving of the tagline of the Games, 'inspiring islanders'.
Julia Bowditch, Games Director, said the result was stunning and she congratulated Sarre on creating something truly special:
'Athletes who win these medals will probably treasure them forever. They are beautiful and I cannot wait to see them being presented at the medal ceremonies. Chloe's design spoke to the underlying ethos of the Games which is about friendliness and bringing people together.
They certainly add an extra sparkle to our preparations.'
The presentation box for each medal is designed to look like a pebble, to reflect the natural environment of the islands.
There will be medal moments on every single day of the competition. On the first day, medals will be decided in athletics, shooting, and triathlon. Details of the locations and timings of the medal ceremonies will soon be listed on this website.
The medals were sourced through a local company and manufactured off-island. In total, more than 1600 medals will be presented during the week. For team events, all members of the winning teams will receive a medal.
As well as the honor of seeing her design used for all of the medals during the Games, Sarre will also receive her own commemorative set of medals.
The medal design competition received over 70 entries, and these were whittled down to three before being put to a public vote. More than 1,600 votes were cast and Sarre was declared the winner. After the postponement of the 2021 games because of the pandemic, the design was amended to include the Guernsey2023 logo.
There are 205 events across 14 sports at 25 venues over the 6 days of competition. The opening ceremony is on Saturday July 8th along the Town seafront. There are no tickets for any of the events because everything is free.