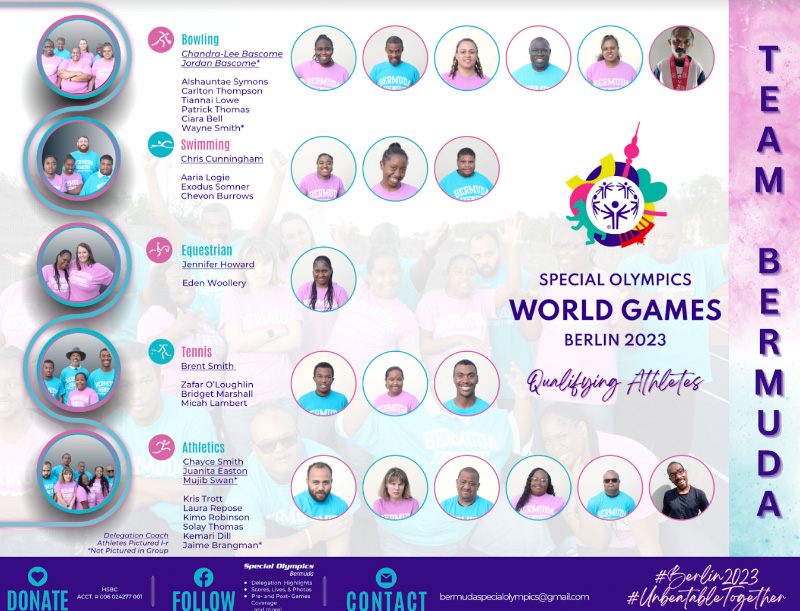 On the Track, Kemari Dill smashed his Personal Best time by nearly 1 second in the 50-meter Quarter-Finals, he then ran against stiffer competition in the Semi-Finals and held off the competition again in the 100m.
- Laura Repose ran the Women's 1500 meters and after a grueling three and a half laps was nipped at the end by 3 hundredths of a second to give her the fourth-place finish.
Exodus Somner in her debut swimming competition, she took to the pool in the 50-meter Back Crawl, and she managed to edge out a contingent of about 50 athletes to qualify for the Finals to be held on Thursday. She was moving like a diamond cutting through the water with rhythmic precision. She lost her hair cap in the process and kept stroking.
The tennis athletes have had some ups and downs with success coming in the Mixed Doubles category. Micah Lambert and Bridgette Marshall teamed up to bring Bermuda closer to the medal category as they have beaten several opponents to rise up in the seeding.
Eden Woollery, the lone Equestrian, was only matched with her horse just a few days ago but the chemistry they have is evident. She is due to perform again on the big stage on Friday the 23rd of June 2023.
Unfortunately, athletes Aria Logie, and Chevon Burrows, who have been an integral part of this 2023 World Games Berlin are now unable to participate due to rule changes and medical issues, respectively.