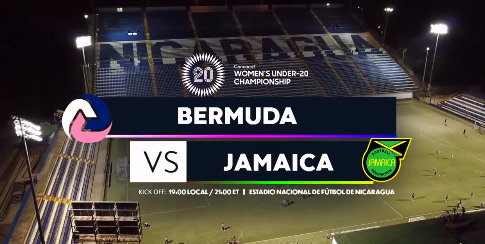 Bermuda 0 Jamaica 2
Bermuda's Under 20 Women's National Team took to the Estadio Nacional Stadium in Managua, Nicaragua to face Jamaica in their second CONCACAF Women's Under-20 Championship Qualifying match.
Bermuda's Starting Line-Up
- Samantha Davies, Jayla Peets-Butterfield, Samara Darrell, K'xiyae Gibbons, Marli Butterfield, Kenyandae Lightbourne, Che-Chulae Dowling, Camryn Lines, Zemira Webb, Robin-Valana Pearman, Breanna De Silva Mederios -
Substitutes:
- Taya Rodrigues, Azari Easton, Jahni Simmons, Ashley DaSilva, Christia Lugo Elibox, Jahde Simmons, Sanaa Simmons, Keidel Astwood
After a scoreless first half, Bermuda found themselves down 1 – 0 in the 47th minute when Shaneil Buckley scored from a distance. Buckley had a right footed shot that went through a maze of players before ending in the back of the net.
Bermuda continued to frustrate the Jamaica team, creating a few chances, but was unable to get the equalizer. In stoppage time Jamaica won a free kick from just outside the box, Davia Richards would unleash a right footed shot that beat Davies to her right to double the score.