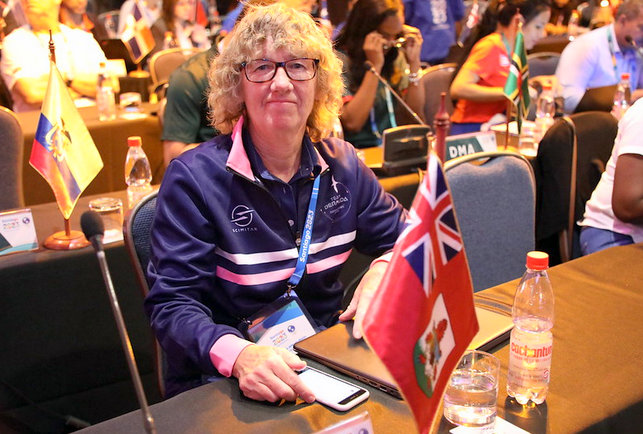 There are only 190 days left until Chile makes history and receives more than 6,900 athletes from the 41 countries that will participate in the Santiago 2023 Pan American Games.
Before every multisport event, it is a tradition for the Chefs de Mission including Bermuda's Julia Hawley to visit the Host City months ahead of the Opening Ceremony and attend a seminar to learn about the progress, infrastructure and sports venues and resolve their questions about the continent's most important sporting event.
Just six months remain that will be crucial for the success of the Games, with all details and operations being finalized in order to prepare for the event in the best way possible.
One of the most important milestones is undoubtedly the Chefs de Mission Seminar. The Santiago 2023 Organizing Committee invited the 41 participating delegations to Chile so their representatives could learn about all of the progress and begin to work together with the host country.
Details that range from reviewing the anthems and flags of the countries, knowing the official hotels, going to visit the sports venues and seeing firsthand all of the progress and news for the Games that begin on October 20.
"We are very happy. The Games are getting closer and this exchange of knowledge and information for the Chefs de Mission is essential. This is everyone's job, the Chefs de Mission are very important to collaborate in all the details and difficulties that are going to arise. Being able to have the first instance of face-to-face communication and show the infrastructure progress was our objective," said Panam Sports President Neven Ilic.
"It is the most important instance in which we bring together all the countries of the continent to show them the advances we have, we are already entering the Games environment, this seminar marks a milestone for us in the straight end to reach the realization of Santiago 2023," added Santiago 2023 Executive Director Gianna Cunazza.