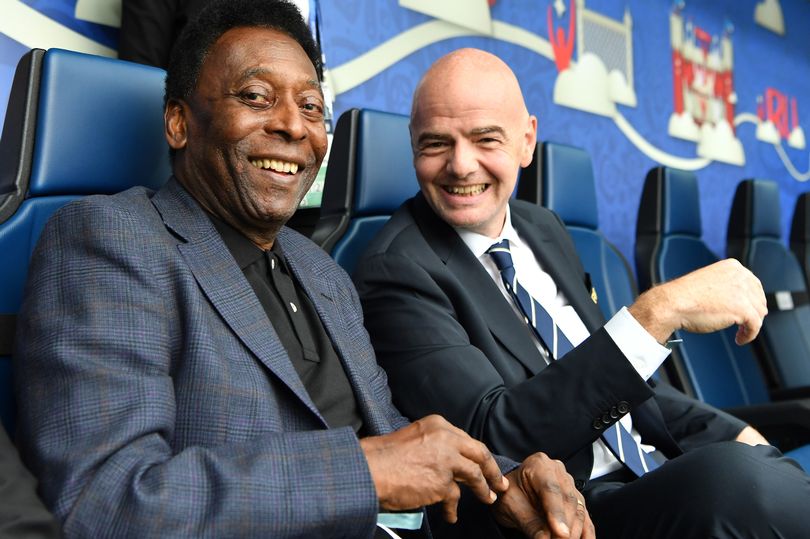 Image: FIFA via Getty Images
IslandStats.com
FIFA President Gianni Infantino wants a football stadium in every country in the world named after Brazilian legend Pelé.
The Swiss official, an International Olympic Committee (IOC) member, has traveled to Brazil for Pelé's funeral.
The 82-year-old died on Thursday (December 29) having spent one month in hospital for a respiratory infection and "re-evaluation of the chemotherapy treatment over colon cancer identified in September 2021".
He won the FIFA World Cup a record three times in 1958, 1962, and 1970, and is Brazil's joint-top scorer in men's international football with 77 goals from 92 games.
Pelé and Argentinian star Diego Maradona were jointly named FIFA's Player of the Century in 2000.
A 24-hour wake began at 10 am local time today at the Estádio Urbano Caldeira, home to Santos FC where Pelé spent the majority of his playing career from 1956 until 1974.
Infantino revealed FIFA's plans to honor Pelé during his visit to Brazil.
"We're going to ask every country in the world to name one of their football stadiums with the name of Pelé," he said.
Infantino added that he hoped this would ensure that "children know Pelé's importance".
Plans to rename the iconic Maracană Stadium in Rio de Janeiro, which held the deciding matches at the 1950 and 2014 World Cups and the Opening and Closing Ceremonies at the Rio 2016 Olympics and Paralympics, in honor of Pelé were revealed in 2021.
However, the plans were abandoned after proving divisive in Rio de Janeiro, with State Governor Claudio Castro issuing a veto.
Infantino had led the tributes to Pelé following his death.
"For everyone who loves the beautiful game, this is the day we never wanted to come," he said.
"The day we lost Pelé.
"Pelé had a magnetic presence and, when you were with him, the rest of the world stopped.
"His life is about more than football.
"He changed perceptions for the better in Brazil, in South America, and across the world.
"His legacy is impossible to summarize in words."
FIFA lowered its flags outside its headquarters in Zürich in honor of Pelé, and periods of silence have been held or are planned at football matches around the world.
The wake is due to conclude tomorrow, followed by a procession carrying the coffin through the streets of Santos and Pelé's burial at the Ecumenical Memorial Necropolis cemetery in a private ceremony.