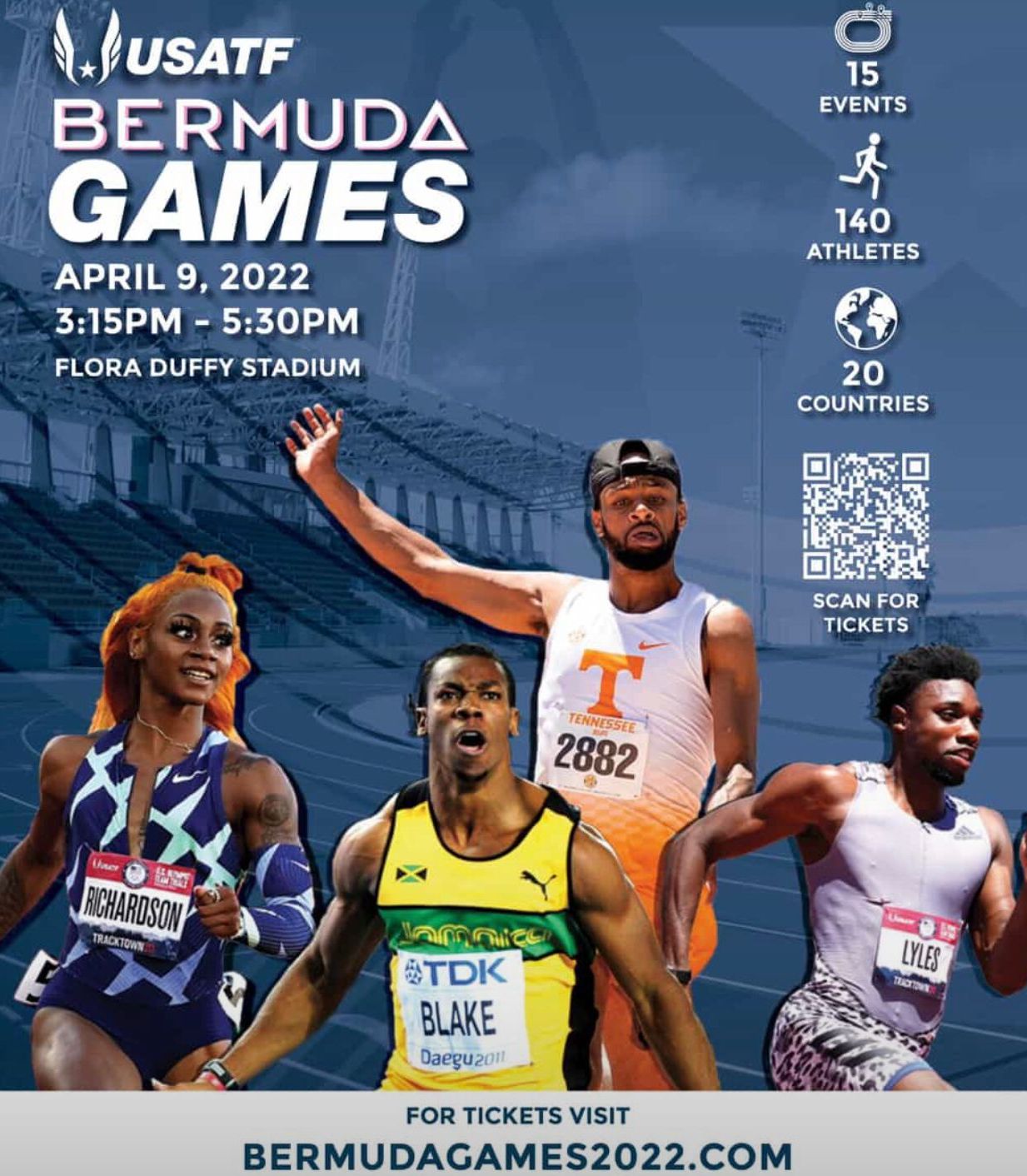 Bermuda Tourism Authority (BTA) today announced a partnership with USA Track & Field (USATF), Nike, the Bermuda National Athletics Association and main local sponsor Athene to bring the best track and field athletes from around the world to compete in the first annual USATF Bermuda Games on April 9th, 2022.
Click Here to see
Pictures of USTA/Bermuda Track meet Announcement
"Having recently announced an easing of Bermuda's COVID protocols effective March 7th, BTA is pleased to welcome our first big event to the island, April 9," said Charles H. Jeffers II, CEO, Bermuda Tourism Authority. "Hundreds of athletes and fans are expected to travel to Bermuda from around the world to participate in this world-class competition, in addition to millions of viewers from around the world who will tune in for the live two-hour international broadcast on NBC showcasing Bermuda as the world-class sports destination it is."
"We are very excited to bring the USATF Bermuda Games to this spectacular new locale on the World Athletics Tour," said Max Siegel, CEO of USATF. "Expanding to venues in the NACAC region is important to the growth of our sport, and we look forward to impressive marks on this fast, newly surfaced track." 
"This global event will serve as the first stop on the newly created USATF Journey to Gold Tour, a robust indoor and outdoor domestic circuit that shines a spotlight globally on our athletes, brand, sport and culture," added Siegel. "The 2022 Tour will also feature the USATF Golden Games at the Mt Sac Relays on April 16 and USATF NYC Grand Prix on June 12, in addition to our regularly scheduled outdoor events, including the Nike Prefontaine Classic on May 28 and the 2022 Toyota USATF Outdoor Championships taking place from June 23-26."
Bermuda's sports fans will have quite a few reasons to cheer, confirmed athletes to date include, Team USA Olympic medalists Athing Mu, Noah Lyles, Grant Holloway and sprint star Sha'Carri Richardson who will be joined by Bermuda's own track and field breakout stars Jah'Nai Perinchief, and Caitlyn Bobb, with other global track stars to be revealed in the coming weeks.
Hazel Clark, BTA Director of Global Sales and Business Development, who is a 6 x American National Champion, 3 x US Olympian and USATF member said, "I am delighted to have found a meaningful way to connect my two passions - Bermuda and USATF. We look forward to introducing members of the USA Track and Field team and the global track and field community to our island. We're honored that USATF has chosen Bermuda for this premier athletics event that deepens our destination's sports credibility. It is a testament to our island's robust infrastructure, world class facilities and the on-island resources to bring this Gold Label event to life."
"We are excited to be the main sponsor for the first-ever USATF Bermuda Games," said Natasha Scotland Courcy, SVP, General Counsel and Chief Operating Officer of Athene Life Re. "We take immense pride in our role in helping to bring this prestigious event to Bermuda to showcase world class talent and to support Bermuda's local track athletes, including the exposure that the youth will have on an elite stage."
"The Bermuda National Athletic Association is proud to partner with BTA and USATF to hold a competition of this magnitude on our shores," said, Dr. Freddie Evans, President of the BNAA. "Hosting a meet of this caliber will pay long-term dividends for the local track and field community as it will energize and inspire our athletes to reach for great achievements. Bermuda's beauty, hospitality and athletic enthusiasm will be on full display at the Flora Duffy South Field Stadium. BNAA is excited to help facilitate the delivery of the "Fastest Kid on de Rock" race, a special addition to this outstanding meet."
i