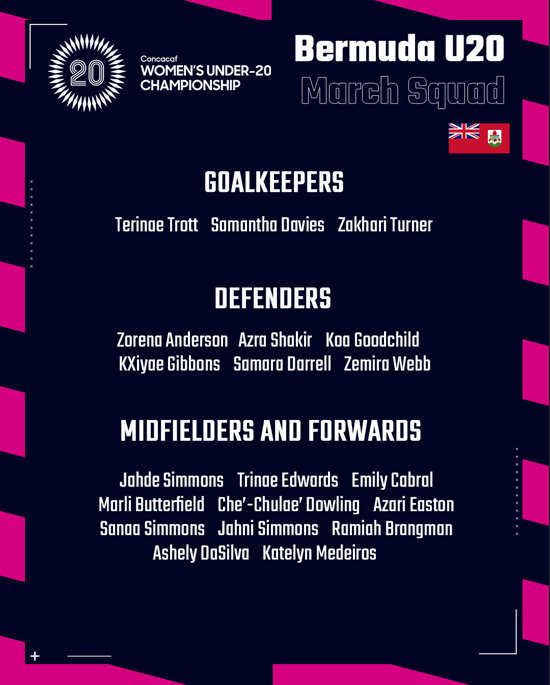 It was last week Tuesday www.islandstats.com first reported that the final 20-player rosters for all of the National teams including Bermuda competing in the 2022 CONCACAF Women's Under 20 Championship (CWU20C) have been submitted ahead of the start of the tournament on Friday, February 25th, 2022.
Today the Bermuda Football Association (BFA) has announced the traveling squad to represent Bermuda in the CONCACAF W Under 20 Championship.
Bermuda advanced to the CONCACAF W Under 20 Championship (CWU20) in September of last year after victories against the US Virgin Islands and St. Vincent and the Grenadines.
As the top team in Group A, Bermuda advanced directly to the knock-out round. Bermuda will play their Round of 16 match on Saturday, March 5th, at the Estadio Olimpico Felix Sanchez, in the Dominican Republic, and will kick off at 7:00 pm AST. The match will be against the winner of Group H which contains, Haiti, Jamaica, Guatemala, and Cuba.
The Bermuda Women's Under 20 Squad for the CONCACAF W Under 20 Championship is as follows:
Zorena Anderson
Ramiah Brangman
Marli Butterfield
Emily Cabral
Samara Darrell
Ashley DaSilva
Samantha Davies
Che'-Chulae' Dowling
Azari Easton
Trinae Edwards
Kxiyae Gibbons
Koa Goodchild
Katelyn Medeiros
Azra Shakir
Jahde Simmons
Jahni Simmons
Sanaa Simmons
Terrinae Trott
Za'Khari Turner
Zemira Webb