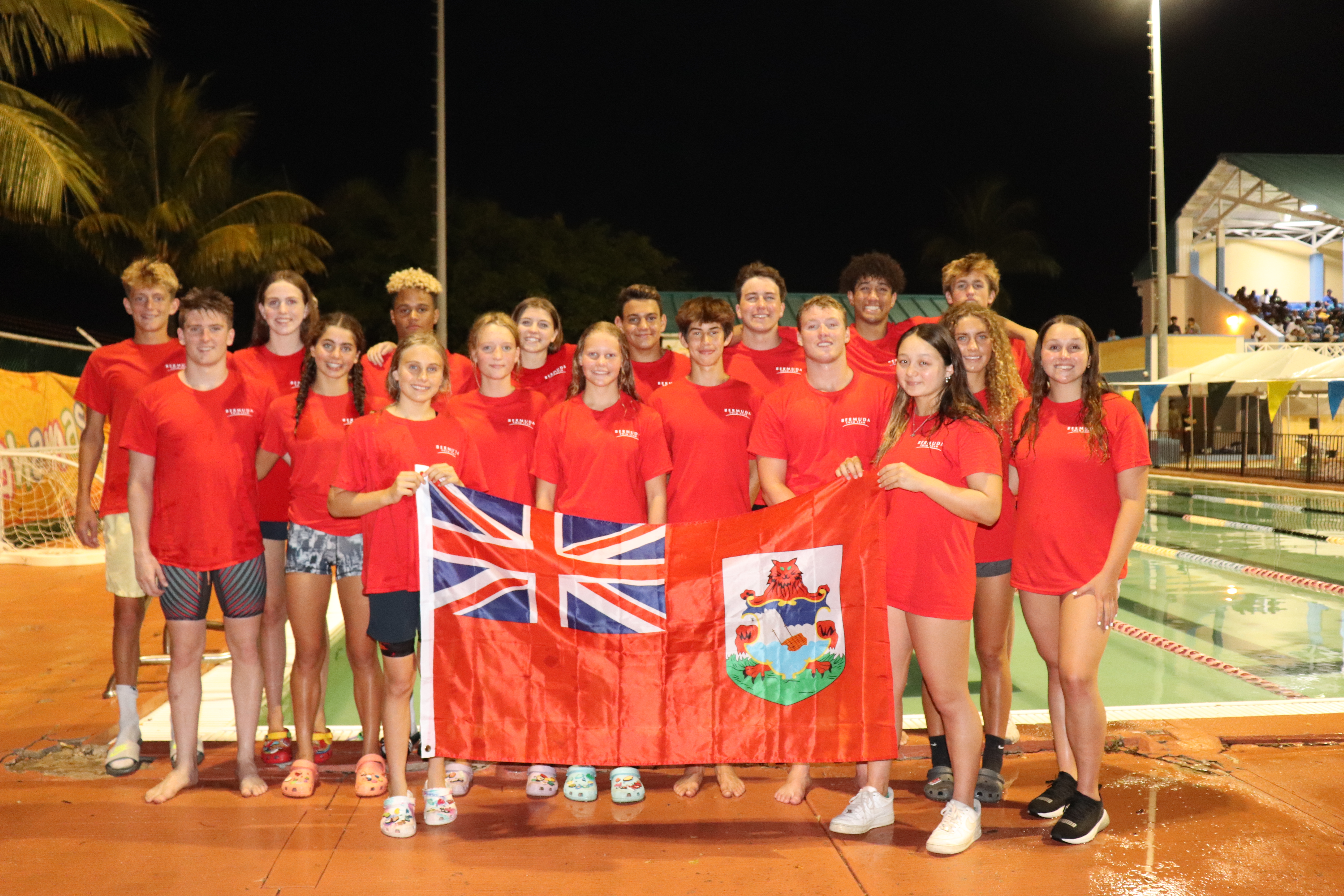 Following the conclusion of the Bahamas National Swim Meet www.islandstats.com will bring you the Individual Medal count and Relay Results.
The Bermuda Swimmers picked up 16 Gold Medals, 17 Silver Medals, and 17 Bronze Medals.
Bermuda swimmers returned to the island on Tuesday following an impressive showing at the Bahamas National Swimming Championships in Nassau, which concluded on Sunday. The four-day meet produced an impressive 50 medals across the 18-member team as well as four unofficial Bermuda records. National Open Records were broken in the Men's 200 Freestyle and 200 Medley relays both teams comprised of Brian Desmond, Caleb Ingham, Finn Moseley, and Sam Williamson. Each of these records was set over 14 years ago and included former Olympians, Roy Allan-Burch and Julian Fletcher. The newly established 15 – 18 Age Group Mixed Medley relay records were initially set by Elanna Fulton, Noah Maranzana, Marleigh Howes, and Connor Hupman and were later broken by the team of Imojen Judd, Rhys Insley, Pippa Charleson, and Flynn Watson-Brown.
Leading the individual medal count for Bermuda were Taylor White (7), Marleigh Howes (7), Sam Williamson (6) and Connor Hupman (6). Several other swimmers left the Championship with multiple medals. The team included Thomas Cechini, Pippa Charleson, Brian Desmond, Elanna Fulton, Marleigh Howes, Connor Hupman, Caleb Ingham, Rhys Insley, Imojen Judd, Noah Maranzana, Finn Moseley, Arabella Newport Derbyshire, Tallulah Parkinson, Violet Smith, Flynn Watson-Brown, Katherine Wheddon, Taylor White and Sam Williamson and was lead by National coaches Ben Smith and Shona Palmer.