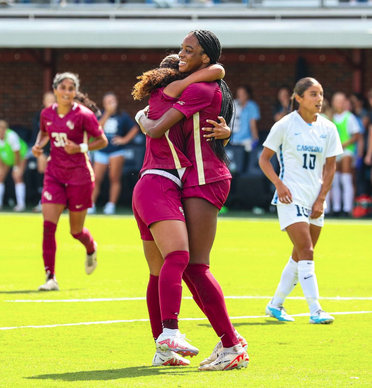 Leilanni Nesbeth's teammate Mimi Van Zanten scored on the last kick of the game as the third-ranked Florida State soccer team played first-ranked North Carolina to a thrilling 3-3 draw at Dorrance Field.
The two teams faced three times last season with UNC taking two of the three meetings but Florida State winning the ACC Championship for a third straight season. The two have been the standard in collegiate soccer and their annual matchup is always one of the biggest games of the year.
North Carolina began with the upper hand in the attack, registering several shots early in the game including a dangerous free kick which goalkeeper Cristina Roque handled well. Nesbeth had no goal contributions up to this point in the season but came up huge as she stole possession off a North Carolina player, sprinted through the midfield, and laid in a well-timed through ball to Jordynn Dudley. The freshman drove into the center of the box and unleashed a shot to the near post to give Florida State the early lead against the run of play.
FSU nearly doubled their lead after Taylor Huff's whipping free kick was fired just over the crossbar. North Carolina was given a chance to tie the game with a penalty shot, but Maycee Bell skied the ball over the frame and left a goal on the table. They didn't have to wait long to try again as Ally Sentnor equalized just before halftime to go into the break at one apiece.
North Carolina were creating the better chances coming out of the break as they forced Roque into another quality save early on. Florida State was able to pull ahead off a corner kick as Huff's cross was met by the high-flying freshman Dudley who buried the ball into the net and regained the lead with 30 minutes to go. She secured her second collegiate brace in only her eighth career game.
With fifteen minutes to go North Carolina drew the game at 2-2 off a deflected ball before a cross to Kate Faasse allowed her to slot another goal away and UNC had their first lead of the day with five minutes to go. Florida State went into full attack and with ten seconds to go Huff's corner kick was parried by the UNC keeper and fell to freshman Mimi Van Zanten who launched the ball into the back of the net to level the game at 3-3 with two seconds remaining, her first collegiate goal.