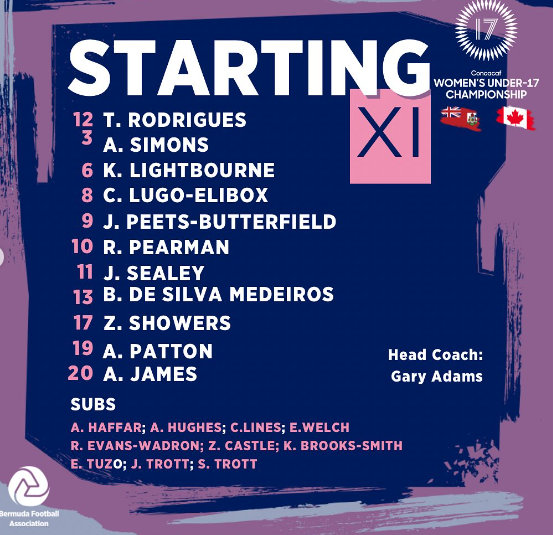 Bermuda 0 Canada 9
Canada collected a victory on Wednesday to qualify for the 2024 CONCACAF Women's Under-17 Championship on the final day of Qualifying.
Bermuda Starting Line-Up:
Taya Rodrigues, Ayshalay Simons, Keyandae Lightbourne, Christia Lugo Elibox, Jayla Peets-Butterfield, Robin-Valana Pearman, Janiya Sealey, Breanna De Silva Medeiros, Zalaye Showers, Avanni Patton, Amiya James -
Substitutes:
- Aaliyah Haffer, Alessandra Hughes, Camryn Lines, , R-Zaneé Evans-Wadron, Evans Welch, Karis Brooks-Smith, Ziae Castle, Ja'Shay Trott, Eva Tuzo, Ja'Shay Trott
The match in Group F at the Estadio Panamericano in San Cristobal, Dominican Republic saw Canada defeating Bermuda 9 - 0.
Nikolina Istocki was one of the stars of the day for the Canadians with a hat trick, as was Annabelle Chukwu, who had scored twice. Joining those two on the scoresheet were Olivia Chisholm, Isabelle Chukwu, Keira Martin and Adriana Bianchin.
Click Here to see the
Canada vs Bermuda Highlights