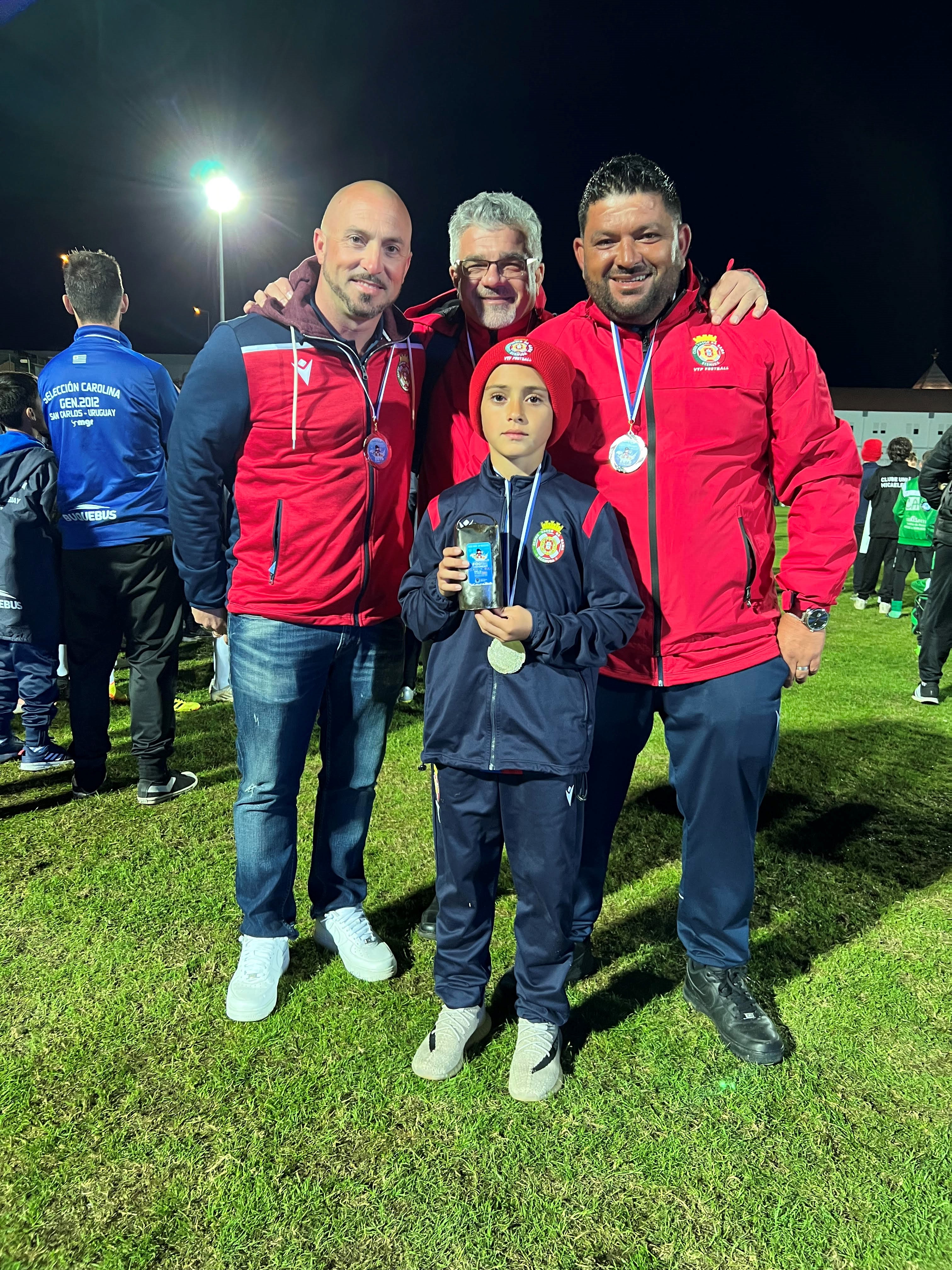 The Vasco da Gama Club and the Vasco Youth Program are pleased to announce that Under 9 footballer, Roman Gaglio, has been selected to attend football trials with the prestigious Portuguese football club, Sporting Clube de Portugal. Roman will travel to Lisbon next week for this incredible opportunity.
Gaglio was scouted during his participation in the 15th International U11 Football Tournament of the Azores. This tournament was in April and organized by Clube União Micaelense based in Ponta Delgada, Azores. Gaglio played a striking or attacking midfielder role throughout the tournament. Indeed, Gaglio was individually honored by the tournament organizer as one of the best 7 players throughout.
Founded in 1906, Sporting is one of the oldest and most important sports clubs in Portugal. Sporting has won the Portuguese Primeira Liga 19 times and the Portuguese Cup 17 times. They compete regularly in European football, becoming the runners-up at the UEFA Cup in 2005.
Sporting's Youth Academy is one of the most prestigious in the world. Sporting's youth system has helped develop footballers such as Cristiano Ronaldo and Luís Figo.
Gaglio was scouted because of his tenacity and hunger to win. He scored several goals in the tournament and was a key playmaker in many others. At only nine years old, Gaglio was holding his own in a tournament with footballers 1 or 2 years his senior. This fact was also noted by the Sporting scouting team.
While this was an opportunity provided to Gaglio thanks to Vasco da Gama Club, he has always been a driven, disciplined self-starter that committed himself to the development of his craft. If Gaglio succeeds at trials, this could open the door to a variety of football-related opportunities. If he is not successful this year, this will nonetheless be an invaluable experience for Gaglio.  
Germano Botelho, director of the Vasco Youth Program, expressed how proud he was of Gaglio, "Frist of all, my congratulations to Gaglio for this fantastic opportunity. It is so rare for any footballer to stand out in an international competition, and even rare still for professional scouts to give such an opportunity.
"It is not a surprise that he was selected as among the 2023 tournament's best players. He shared this honor with young players from professional academies throughout Europe. This is no small achievement, and we expect great things from Gaglio in the future. His parents should be very proud.
"Regardless of the results of his trial, Gaglio should hold his head high with such an honour."
Richard Ambrosio, President of Vasco da Gama, who was present at the games, thanked everyone, "I want to extend my congratulations to Roman and his undoubtedly proud family. This is a tremendous achievement. I was fortunate enough to watch our U11 team in action in the Azores this past April, and I saw firsthand what Sporting's scouts saw as well.
"Every Portuguese person and football fan in Bermuda knows Sporting. Whether you support the team or consider them a football rival, their youth academy is universally respected. Being selected by such a prestigious club is a moment that Roman can be proud of for the rest of his life, irrespective of whether this leads to a professional career or not.
"I also want to thank Germano Botelho and his group of volunteer coaches and team managers who work tirelessly to run the program and provide support to players such as Gaglio. In my mind, this is a huge vote of confidence not just in Gaglio but also in our program.
Gaglio is currently enrolled at Saltus Grammar School and lives with his father Reed, mother Sandy and sister Rielle. Reed Gaglio is also a coach for the Vasco Youth Program, and jointly coached the traveling team to the Azores in April 2023.