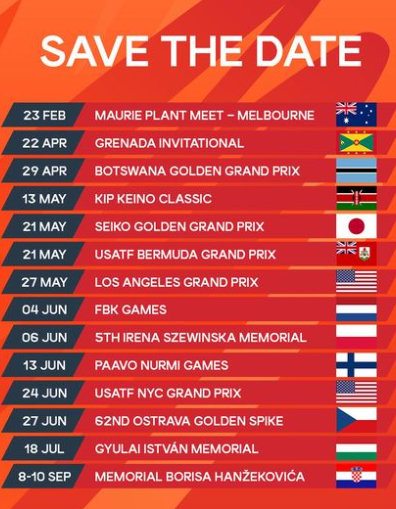 World Athletics has released the 2023 Continental Tour Gold Schedule with Bermuda hosting the USATF Bermuda Grand Prix on May 21st at the National Sports Center Flora Duffy South Field Stadium.
The biggest World Athletics Continental Tour calendar yet has been confirmed for 2023, with one month to go until the first Gold level meeting of the season in Australia.
More than 180 meetings are included in this year's tour, which is divided into four levels – Gold, Silver, Bronze, and Challenger. The status of each meeting is determined by the quality of the competition and the prize money on offer.
This will be year two for Bermuda which has been put in as a Gold Tour event and will go up against the Seiko Golden Grand Prix taking place on the same date in Yokohama, Japan.
The schedule of Gold meetings has increased by two, with the tour's top tier now comprising 14 events spread across five of the six continental areas. New for the Gold tour in 2023 are events in Melbourne, Grenada, and Botswana. The full calendar also currently includes 25 Silver, 55 Bronze, and 95 Challenger meetings.
Gold level meetings in the 2023 World Athletics Continental Tour
23 February – Maurie Plant Meet, Melbourne (AUS)
22 April – Grenada Invitational, St. George's (GRN)
29 April – Botswana Golden Grand Prix, Gaborone (BOT)
13 May – Kip Keino Classic, Nairobi (KEN)
21 May – Seiko Golden Grand Prix, Yokohama (JPN)

21 May – USATF Bermuda Grand Prix, Devonshire (BER)
27 May – Los Angeles Grand Prix, Los Angeles (USA)
4 June – FBK Games, Hengelo (NED)
6 June – Irena Szewinska Memorial, Bydgoszcz (POL)
13 June – Paavo Nurmi Games, Turku (FIN)
24 June – USATF NYC Grand Prix, New York (USA)
27 June – Ostrava Golden Spike, Ostrava (CZE)
18 July – Gyulai Istvan Memorial, Budapest (HUN)
8-10 September – Memorial Borisa Hanzekovica, Zagreb (CRO)
Click Here to see the
Full 2023 World Athletics Continental Tour Competitions Calendar