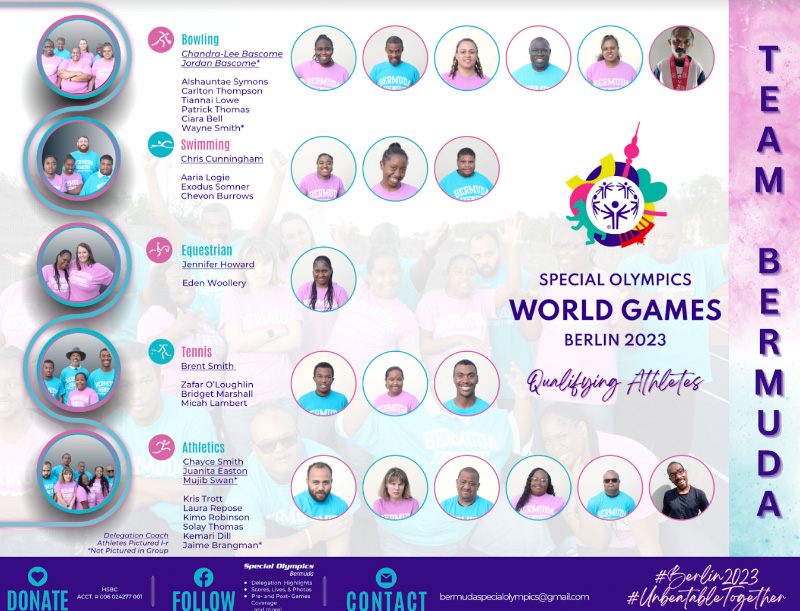 Following their outstanding achievement at the Special Olympics World Games in Berlin, the Minister of Youth, Culture and Sport Owen K. Darrell, confirmed that plans are currently underway to publicly recognize Bermuda's Special Olympians.
The community will be aware that Bermuda was represented by a full contingent of Special Olympians during the Berlin games, which took place from June 17 - 25, 2023.
Nineteen (19) athletes participated in a range of sports, including athletics, bowling and tennis, among others. And their participation was so successful, that it yielded an impressive 11 gold, silver and bronze medals for Bermuda. The public should be aware that the Department of Youth, Sport & Recreation has worked closely with Special Olympics Bermuda over the past weeks to highlight, support and recognise the achievement of all the Olympians.
Minister Darrell said, "The Government and the Ministry were delighted to follow the achievement of all the medal winners during the week-long Berlin games. Last Tuesday evening, the Hon. Premier and I attended the airport to welcome the team home and thank them for their remarkable and inspiring performances.
"Planning is currently underway to welcome the team to the Cabinet Office so that all of Bermuda can recognize our Special Olympians. We believe that each of them should be celebrated for representing Bermuda on the world stage with dignity, determination and integrity."
Minister Darrell advised that the Special Olympics Recognition will include a motorcade to the Cabinet Office, a presentation of Certificates of Acknowledgement to the Medal winners, followed by a Lunch Reception at the Flora Duffy National Sports Centre Pavilion for the Special Olympians and their family members. The public will be formally notified of the date of the recognition activities.