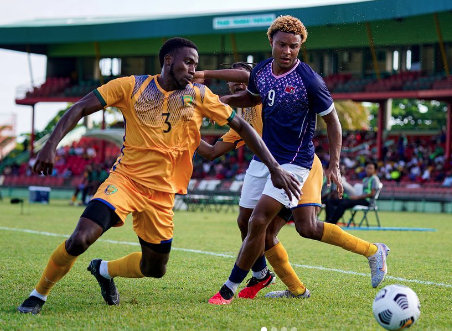 St. Vincent and the Grenadines 4 Bermuda 3
Bermuda was back in action in the CONCACAF Nations League taking on Saint Vincent and the Grenadines.
Bermuda Starting Line-Up:
- Dale Eve, Reece Jones Jr., Dante Leverock, Harry Twite (Kashe Hall 88th), Daniel Cook (Lejuan Simmons 46th), Reggie Lambe, Roger Lee (Ne-Jai Tucker 46th), Aunde Todd, Kane Crichlow (Luke Robinson 46th), Remy Coddington (Knory Scott 70th), Jai Bean -
Substitutes:
Detre Bell, Quinaceo Hunt, Jalen Commissiong, Milan Butterfield
Bermuda would take the lead in the 21st minute when Jai Bean scored with a right-footed shot from the edge of the box. Oalex Anderson would score three times in a five-minute period for Saint Vincent and the Grenadines to lead 3 – 1 at the break.
Jahvin Sutherland scored for St. Vincent and the Grenadines in the 63rd minute to extend the home team lead to 4 – 1, but Bermuda would stage a comeback, Remy Coddington scored from close range in the 69th minute to pull Bermuda within two, and then Lejuan Simmons scored in the 74th minute to make it 4 – 3, but Bermuda could not find the equalizer.