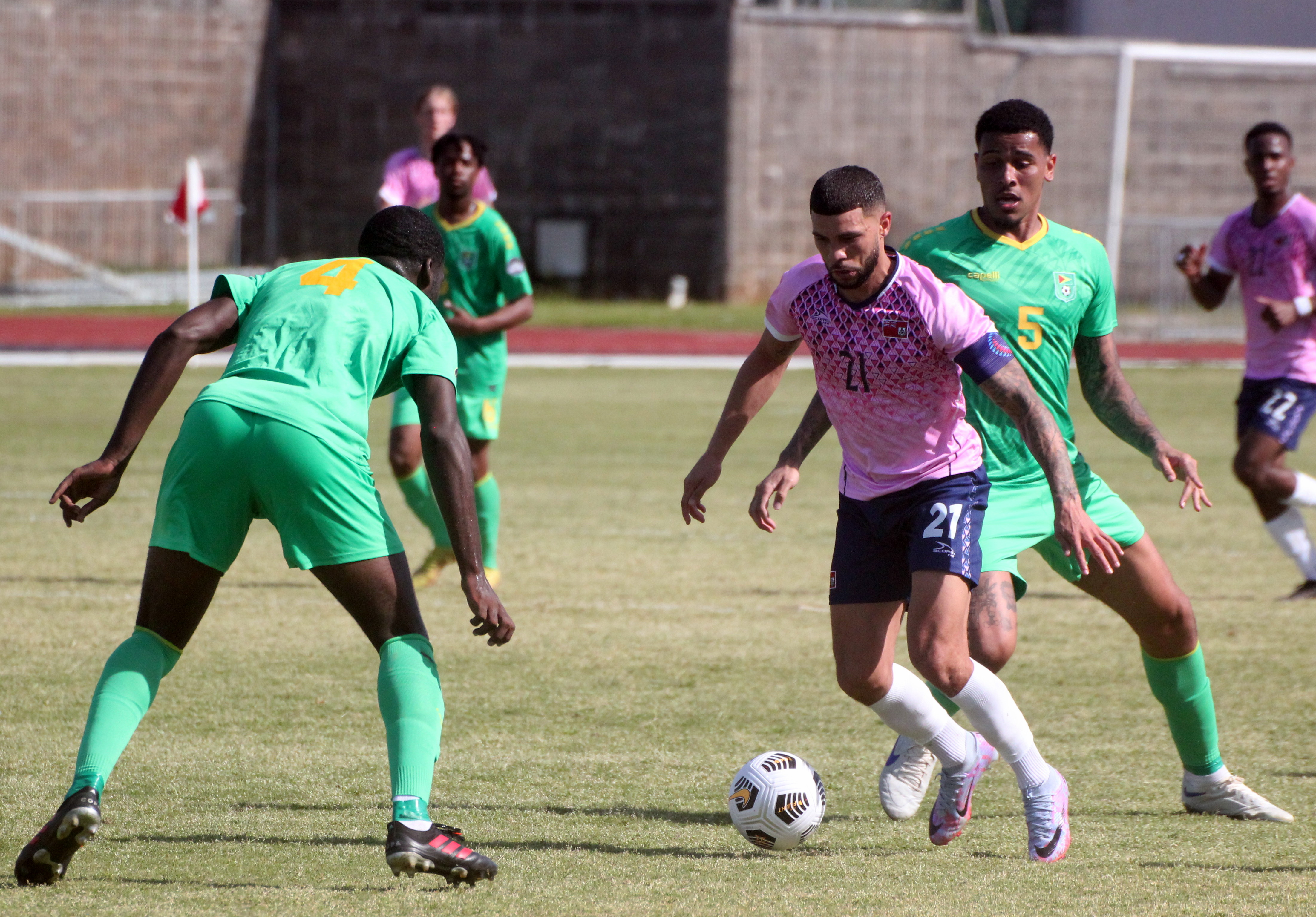 Bermuda 0 Guyana 2
Bermuda took on Guyana at the Flora Duffy South Field Stadium at the National Sports Center, with Guyana capping off a great performance with a 2-0 victory in Group B League B action.
Bermuda:
- Dale Eve, Daren Usher (Deniche Hill 60th), Dante Leverock (Reece Jones Jr. 60th), Roger Lee, Oliver Harvey, Daniel Cook, Harry Twite, Jai Bean (Sincere Hall 76th), Ahria Simmons (Keishon Bean 65th), Zeiko Lewis (Luke Robinson 76th), Nahki Wells -
Substitutes:
- Jahquil Hill, Quinaceo Hunt, Nzari Paynter, Liam Evans, Enrique Russell, Chikosi Basden, Knory Scott -
Guyana
- Kai McKenzie-Lyle, Leo Lovell (Curtez Kellman 90+3), Jonathan Grant (Samuel Cox 80th), Jalen Jones, Bayli Spencer-Adams, Liam Gordon, Jeremy Garrett, Elliot Bonds, Nathan Moriah-Welsh (Tre Mitford 79th), Emery Welshman (Daniel Wilson 71st), Omari Glasgow -
Substitutes:
- Joshua Narine, Akel Clarke, Marcus Wilson, Colin Nelson, Daniel Kadell, Pernell Schultz, Trayon Bobb
The visitors started on the front foot with the game's first dangerous opportunity in the fifth minute. Nathan Moriah-Welsh found Bayli Spencer-Adams on a free kick, but the header went just wide.
Guyana nearly scored from another set-piece opportunity just two minutes later when a corner kick nearly developed into a shot on target. Jalen Jones got on the end of it, but the ball went just over the bar.
Bermuda began regaining control of the ball through their defensive work and one of the best efforts, a tackle from Roger Lee, quickly transitioned into Bermuda's first chance in the first half. Jai Bean's attempt in the 24th minute went just wide of the far post as the hosts started to press forward.
Guyana would once more come close to scoring from a corner attempt but Jeremy Garrett was denied by the woodwork in the 30th minute. Bermuda goalkeeper Dale Eve was then instrumental in denying Omari Glasgow in the 42nd to end the half.
Guyana finally broke through on the scoreboard with a goal from Liam Gordon in the 52nd minute. The use of wide play led to a whipped-in ball from Jonathan Grant that was pushed over to the far post by an Emery Welshman header as Gordon sped in for the finishing touch.
The visitors extended their lead on a second-chance play from a corner kick. Grant was again influential on the right wing and placed the service into the box, allowing Garrett to convert in the 58th minute.
The result eliminates Bermuda from the Gold Cup Prelims, with a five-point difference between the two nations. Guyana could be in contention for the top spot depending on the Montserrat-Haiti result.